Full service package account for business
03/11/2020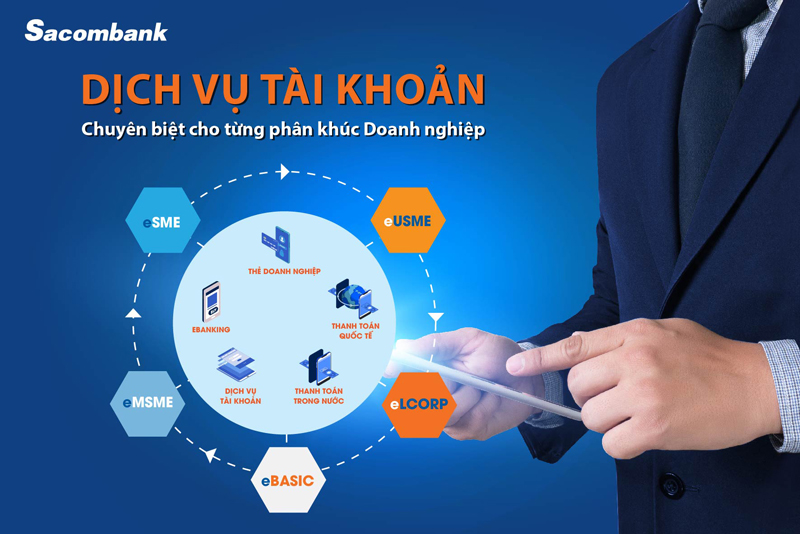 Accordingly, eBasic is a combo that meets the basic needs of businesses with preferential management fees offers: accounts, e-banking, payment cards, SMS transaction notifications and online tax payment.
The eMSME Combo is suitable for micro businesses, including EBasic combo offers plus free e-banking payroll service, up to 50% off for domestic remittance through e-banking, up to 40% fee for international money transfer.
The eSME Combo is suitable for small and medium businesses, including EBASIC combo offers plus issuance free and first-year corporate credit card annual fee, free payroll service via e-banking and at the counter, exemption / reduction of up to 70% for e-banking and counter money transfers service fee, up to 40% reduction in trade finance and international money transfers fees.
EUSME Combo is suitable for upper medium to large businesses, including full offers of eSME combo, international money transfer fee and trade finance discount up to 50% plus many counter transactions such as free / discount up to 30% fee Domestic money transfer, cash deposit / money transfer to account from another province / city ...
Combo eLCORP is the highest incentive package suitable for large businesses, including exclusive eSME combo offers for international money transfers and leverage service up to 60% discount plus counter deals such as exemption / reduction up to 50% of domestic remittance fee, free all cash deposit / money transfer transactions from other provinces / cities.
The fee for these service combos is only from VND89,000 to VND2,999,000 / month and will be free if the average monthly balance reaches from VND25 million to VND2 billion depending on each package. Full-service package accounts according to the scale of the business from Sacombank will help businesses to save maximum costs and time, thereby concentrating resources to increase production and business performance.