Many attractive offers with Sacombank Napas Chip Cards
22/10/2020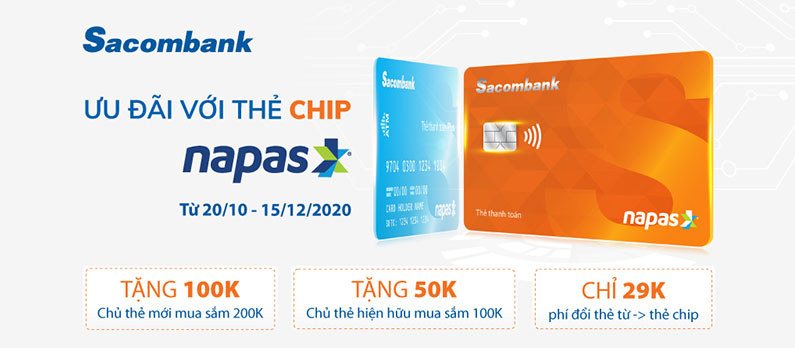 Sacombank Napas card (including payment card and credit card) with EMV chip is a card capable of storing and encrypting information with high security, helping to minimize fraudulent and fake transactions. At the same time, customers only need to touch or gently wave the card to the NFC POS for a few seconds to complete the payment transaction and do not need to sign to confirm invoices with value up to VND1 million. Customers can use Sacombank Napas chip cards to make payment and withdraw money nationwide; making interbank money transfer and online shopping at many websites; enjoy discount up to 50%when shopping, dining, travel ... Only Sacombank Napas chip credit card holders can also eligible for spend first, pay later program; Cash withdrawal up to 100% of the limit.
Customers who already have Napas card and would like to replace by chip cards just need to contact hotline or visit any Sacombank's transaction offices nationwide.
New customers who want to open Napas chip card only need to have NaID / passport to register online or visit any Sacombank's Branch / Transaction Office; To register for Napas chip card, customers are only required minimum income is from VND5 million / month if living in Hanoi, Ho Chi Minh City and VND3 million / month if living in other provinces.
For detailed information, please kindly contact Hotline 1900 5555 88 hoặc 028 3526 6060; access to website khuyenmai.sacombank.com and register online at website dangkythe.sacombank.com.