Pay Many incentives to download and transact via Sacombank Pay app
15/07/2020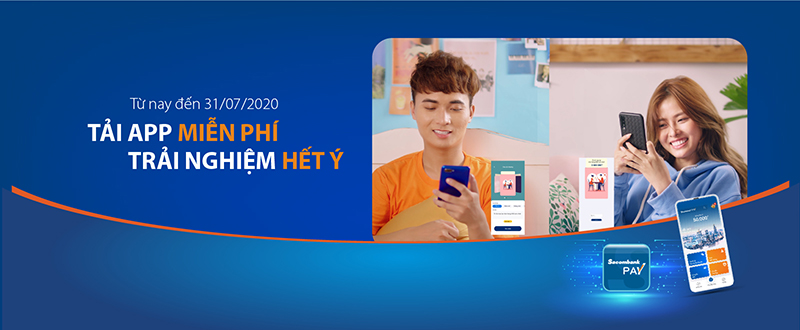 Accordingly, Sacombank refunded VND50,000 to the first 1,000 new customers who download and authenticate Sacombank Pay accounts; VND 30,000 refund for 1,000 new customers who make earliest payment via application. Customers who use Sacombank Pay to successfully introduce friends and relatives to download and authenticate the application will get a regund of VND20,000/referral, applied for the first 4,000 times during the promotion.
In addition, from now until September 15, 2020, Sacombank has also implemented promotions "Travelling at ease, no-worry at fee" for all Sacombank's international credit cardholders. Accordingly, the first 1,000 cardholders who buy travel tickets (car / train / plane) or book hotel rooms and successfully pay via Sacombank Pay or Mobile Banking (mBanking) will receive a 30% refund (maximum VND300,000). Each customer is entitled to a one-time refund for each travel ticket or hotel reservation service.
Sacombank Pay is a financial management application, fully integrated with modern banking features and utilities to provide customers with many interesting digital banking experiences such as: linking with domestic cards and international of all banks; Easy to deposit / transfer money into the application; cash withdrawal without a plastic card; transfer money to any recipient via account, card, mobile phone number or personal QR code; proactively manage cards and accounts; making hotel reservation; buying air / car / train tickets, movie tickets; registering consumer loans with preferential interest rates from 0.65% / month; splitting eating and shopping bills with friends; buying mobile top-up; paying multi-sector invoices and authorizing automatic payments; registering and managing purchases / installment payment of 0% interest rate; finding transaction points, ATMs and latest offers…. Customers can download Sacombank Pay from App Store or Google Play for free to mobile devices and register an app account with a phone number.
For further information, please kindly contact Hotline 1900 5555 88 or 028 3526 6060; access to website khuyenmai.sacombank.com and register online to open card at dangkythe.sacombank.com.