Sacombank awards saving card value VND 2.5 billion to customers
28/04/2020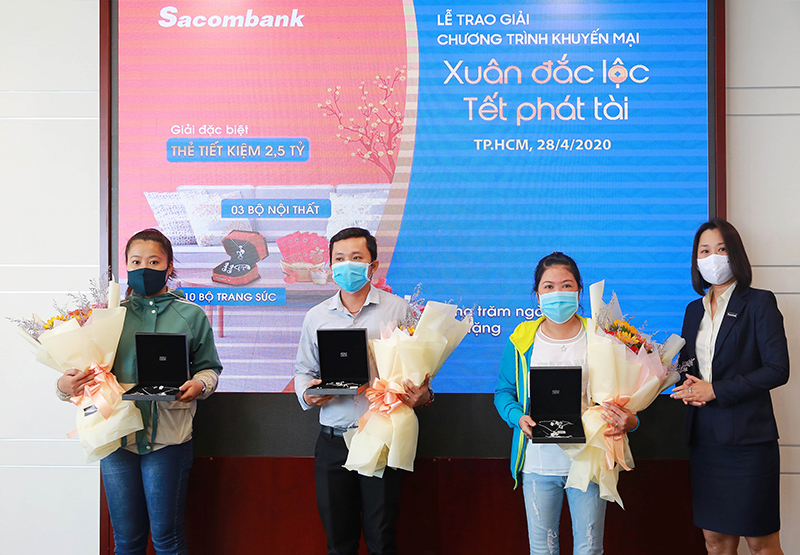 At the award ceremony, customer Ha Van Thuong shared: "When I received the special prize announcement, I was very surprised. I never thought I would have such great luck in my life. In the coming time, I will continue to deposit at Sacombank and introduce my friends to save and make transactions at Sacombank because the Bank serves very well and also has many attractive promotions".

Mr. Nguyen Minh Tam - Deputy CEO of Sacombank (left) handed over a saving book value of VND 2.5 billion to customer Ha Van Thuong (middle),
the lucky customer wins a special prize in the promotion campaign "Spring of Lucky - The Year of Prosperity"
and awarded the first prize which is the luxury interior package to the winning customers in Ho Chi Minh City.
"Spring of Lucky - The Year of Prosperity " is a program for individual customers that takes place from December 16, 2019 to March 14, 2020, with a total prize value of more than VND 20 billion with many valuable gifts. Accordingly, each customer open saving account from VND 5 million, tenor from 2 - 36 months at transaction points or via electronic banking channel; having total service fee at counter and e-banking from VND 100,000 and above; having total remittances received at 1,400 USD; log in to Internet Banking and make payment for the first time to receive the lucky code participating in the lucky draw at the end of the program.
At the lucky draw session on April 24, 2020, Sacombank identified 1,126 customers who won the program's valuable prizes, including: 1 saving card value VND 2.5 billion VND, 3 luxury interior packages worth VND 100 million / package, 10 sets of SBJ jewelry worth VND 50 million / set, 62 vacuum cleaner robot worth VND 8 million / robot and 1,050 sets of tea pots.
For detailed information, please kindly contact: