Sacombank offers over 8 billion dongs of fees to retail and corporate clients
04/06/2020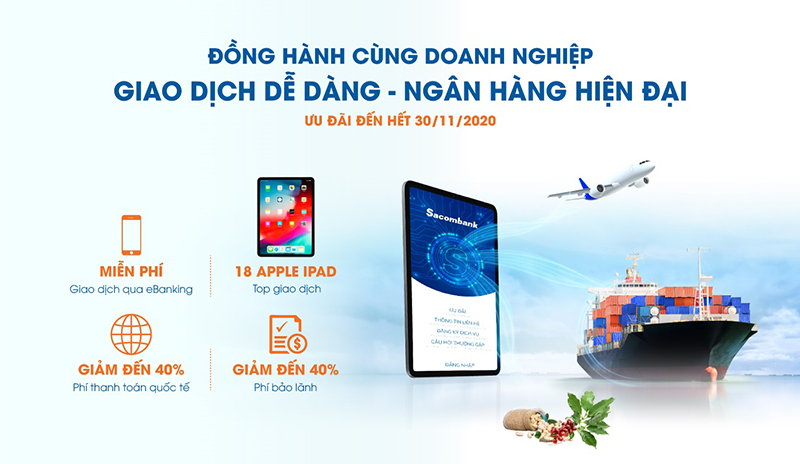 Accordingly, corporate clients enjoy up to 40% discount on guarantee services fee and international payment service fee. New corporate clients registering for e-banking services will get free of periodical fee, electronic tax payment fee, online tax payment fee, payroll payment fee, money transfer fee to other banks below 500 million dongs and a 50% discount on money transfer fee to other banks from 500 million dongs. Sacombank especially gives an Apple Ipad to corporate clients with the most online transactions, guarantee and international payment transactions and practical gifts for new corporate clients with registration for e-banking services, guarantee and international payment services. 
In addition to offers of fees and gifts, Sacombank has introduced modern e-banking services to assist corporate clients in cash management such as online registration and account opening, online banking anywhere at any time, 24/7 tax payment service, e-invoice service and more as well as provided corporate clients with ultimate solutions to capital management, competitive enhancement and business activities expansion.  
Furthermore, from now until August 30, 2020, Sacombank has also launched the promotion program named "Enjoy fabulous privileges with modern banking services" applied to retail customers. Customers banking at counter or via e-banking who pay services fee of 100,000 dongs will receive a 20% services fee back for the next transaction at counter. Especially, from June 15 to June 20, 2020, customers meeting the above requirement will get an offer up to 40%. The program takes place until October 31, 2020. 
For more information, please visit the website www.sacombank.com.vn or www.khuyenmai.sacombank.com, call our 24/7 hotline at 1900 5555 88; or email to ask@sacombank.com.