Sacombank offers preferential service fees to advance money by credit card
17/01/2020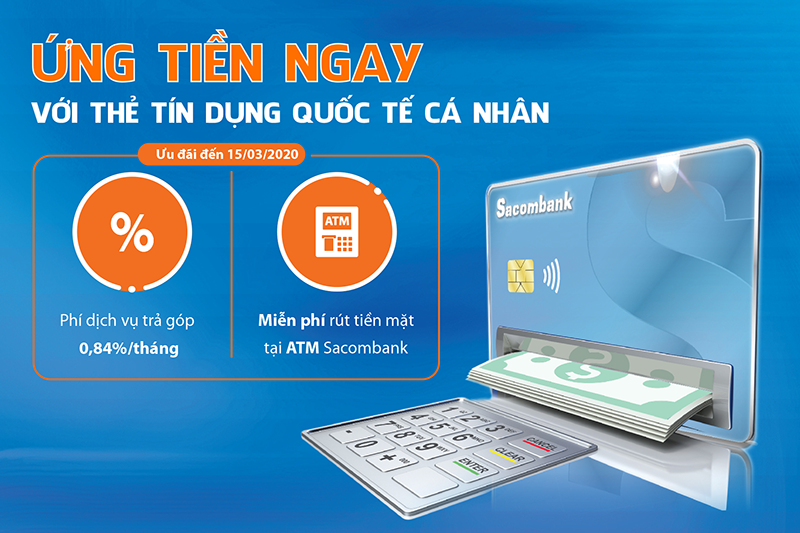 For advancing money, customers use Sacombank's international credit card for withdrawal at any Sacombank ATM. After that, customers will regist installment via Sacombank Pay app (choose "Installment") or send message to 8149 (fee VND 1.500). To regist installment all of the withdrawal transactions in one day, text message in the transaction day as THE TGTM 6T <4 last numbers of card>, THE TGTM 12T <4 last numbers of card> or THE TGTM <4 last numbers of card> as the period of installment 6, 12 or 24 months. To regist installment each withdralwal transaction, text message in maximum 1 period of credit card transation's announcement, since the day the transation is made as THE TGTM <installment payment term> <app code>. App code is 6 numbers which is printed in the invoice.
Sacombank's international credit card is an essential backup financial resource for every demand with many utilities such as: unlimited maximum credit limit; buying in advance, paying after interest for up to 55 days without collaterals; making payment and withdrawal worldwide; especially making payment by touching the card on a POS machine or scanning QR codes at global card acceptance points and withdrawing money without plastic card by scanning the QR code at Sacombank ATMs nationwide; shopping via Internet; accumulate reward points when shopping for gifts or get a refund; discount up to 50% when dining, shopping, traveling; 0% interest installment payment for anytime; transact via Internet banking; Sacombank Pay application… The condition for having a card is the income from VND 5 million/month if customers live in Ha Noi, Ho Chi Minh City and from VND 3 million if in other provinces.
Sacombank Pay is a financial management application, fully integrated with modern banking features and utilities to provide customers many interesting experiences in the field of digital banking such as: linking with domestic cards and international of all banks; easy to deposit/transfer money into the application; cash withdrawal without a plastic card; transfer money to any recipient via account, card, mobile phone number or personal QR code; proactively manage cards and accounts; hotel reservation; buy air/car/train tickets, movie tickets; split eating and shopping bills with friends; buy scratch cards or recharge mobile phones; pay multi-sector invoices and authorize automatic payment trust; register and manage purchases/advances of 0% interest installments; find transaction points, ATMs and latest offers…. Especially from now until January 31, 2020, customers will receive "Got It" gift voucher worth 100,000 VND when buying a bus or train ticket with a transaction value of 500,000 VND (unlimited number of tickets/time done) on Sacombank Pay. Customers can download Sacombank Pay from App Store or Google Play for free to mobile devices and register an app account with a phone number.
For futher information, please kindly contact Hotline 1900 5555 88 or 028 3526 6060; access to website khuyenmai.sacombank.com and register for card online at website card.sacombank.com.vn.