Sacombank participates in the Cashless Day series of events
26/05/2020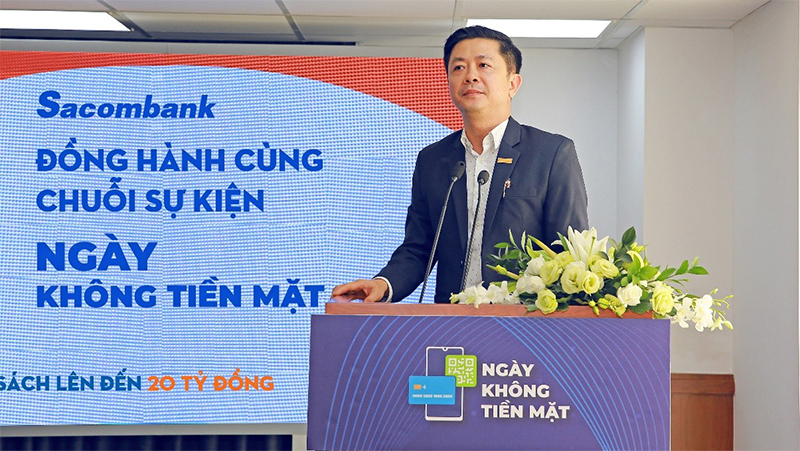 The series of events includes 6 key programs of "Buy Vietnamese agricultural products", "Cashless payment applied for small merchants", virtual run race, a webinar on how to make cashless payment and non-cash shopping month. 
Sacombank is one of pioneering banks to apply modern technology for the development of digital banking products including cards, e-banking (iBanking, mBanking), Sacombank Pay app, etc. to optimize customers' experience for cashless payment and smart financial management. 
FURTHER INFORMATION
Sacombank is one of pioneering and leading banks in the banking card market with the highest international card spends and the highest number of card-accepting merchants as well. The Bank is especially in Top 3 banks with a 23% market share on e-commercial payment amounts. Sacombank has co-operated with 5 card issuers including Visa, Mastercard, JCB, UnionPay and Napas to diversify card types in order to suit every customer segmentation. 
Sacombank's electronic banking system (including iBanking and mBanking) has many good features such as user-friendly interface and safety that meets demands of both retail and corporate customers. Besides offering normal functions such as funds transfer, mobile top-up, credit card payment and more, Sacombank eBanking enables customers to manage list of recipients, set up scheduled transactions, receive notifications on bills to be paid, make many funds transfers to many recipients at the same time, make multi-level approval applied for corporate clients, use biometrics login service, integrate card utilities into mobile banking, deposit or borrow funds online, pay by QR code, pay e-tax, etc. At present, Sacombank has over 2.4 million customers using iBanking and more than 2 million customers using mBanking. 
In July 2017, Sacombank launched Sacombank contactless payment solution and POS NFC machine that allows cardholders to simplify payment just by tapping or waving gently a card over POS screen without giving a card to sellers. This is the most modern chip card technology applied for payment at train stations, bus stations, convenience stores worldwide. 
Sacombank officially introduced financial management Sacombank Pay app in December 2018 which provides customers with exciting experience of modern digital banking features and utilities. The app enables users to manage their accounts with an outstanding payment feature such as payment of bills, school fees, insurance, airline tickets or hotels reservation, etc. The global standard EMV QR code specification for payment systems is integrated into Sacombank Pay app. Customers can pay at EMV QR code payment accepting merchants worldwide only with a mobile device connecting to internet. In addition, customers are updated on preferential offers of card accepting merchants available around. Online consumer loan is easy to access and enables customers to borrow funds from the bank in seconds or customers can open savings account online with higher interest rate vs. at counter.  
In May 2019, Sacombank among pioneering banks launched domestic VCCS Napas standard-based chip card to support contactless payment. Besides, Sacombank is the first bank in Vietnam to become Samsung's partner to put Samsung Pay payment solution in operation on POS machine with NFC support feature.