Sacombank promotes digital transformation in Human Resource Management with SAP Successfactors
17/09/2020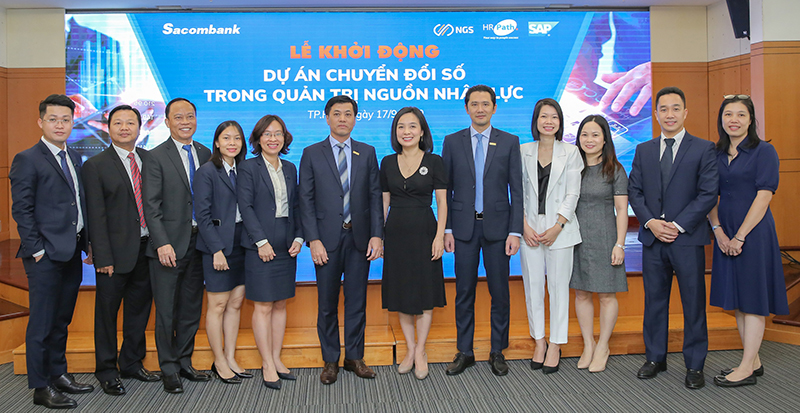 The SAP SuccessFactors - HR management solution includes all activities in human resource management such as recruitment, training, performance management, remuneration, legacy team training and personnel analysis tools with high accuracy and maximum time saving; especially, bringing superior experiences for employees to engage and be more satisfied, thereby increasing labor productivity, revenue and improving operational efficiency for businesses. This solution will help Sacombank completely digitize human resource processes, human resource management and development.

Mr. Luxsho Logan - Southeast Asia Business Director of HR Solutions at SAP shared about the digital transformation trend in modern human resource management

Mr. Rudy Abraham - SAP Vice President and Director of HR Solutions for Southeast Asia committed to implementing the project.
Mr. Le Duc Thinh, Deputy General Director of Sacombank said: "In recent years, digital transformation has been one of the important goals in Sacombank's development strategy in order to create a solid, comprehensive and suitable foundation to catch up to the the industrial revolution 4.0, thereby improving the management - operating capacity, optimizing operational efficiency, meeting the increasing needs of customers as well as creating a competitive advantage in the market. In addition to continuously upgrading core banking, developing digital banking services and supporting software in operations such as risk management, credit,... digital transformation in human resource management is also a very important process, contributing to enhancing the operational efficiency of Sacombank as the bank's workforce is now more than 18,000 employees with a wide network in all three countries of Vietnam, Laos and Cambodia ".

Mr. Le Duc Thinh - Sacombank's Deputy General Director shared about the project's objectives.
In 2018, Sacombank launched the customer relationship management software with SAP CRM and Hybris Marketing technology to optimize customer management and care, and at the same time, enhance customer experience in all interactions with Sacombank. This is one of the most complete, comprehensive and methodical implementation of a CRM solution in the Vietnam banking sector.

Ms. Can Thi Thanh Hai - Director of HR Path Vietnam is committed to implementing the project.
Ms. Can Thi Thanh Hai, Director of HR Path Vietnam said: "With our extensive experience in helping businesses improve the quality of human resource management, we are confident the project will achieve positive results. HR Path will offer the best methods to ensure optimization of Sacombank's investment as well as fully exploiting SAP technology solutions".

(From left to right) Ms. Can Thi Thanh Hai - Director of HR Path Vietnam, Mr. Tran Thai Binh - Director of Sacombank Information Technology Division, Mr. Thomas Le - Director of Digital Transformation of SAP, Ms. Nguyen Thi Thuy Hang - Vice President Director of NGS signed a cooperation contract with the witness of Mr. Le Duc Thinh - Deputy General Director of Sacombank and Mr. Nguyen Hong Viet - Business Director of SAP Vietnam.


Mr. Le Duc Thinh and Mr. Nguyen Hong Viet presented flowers to congratulate the signing ceremony
Mr. Chern-Chuen Khor, Acting General Director of SAP Vietnam said: "More and more Millenials (born 1980-2000) employees join the workforce, which requires businesses to manage HR is a completely different way from merely providing digital tools to replace traditional processes. Reality shows that, to have an engaged staff, businesses need to create real experiences and connections, designed with human values and powered by information technologies to bring positive effects to business results".