Sacombank wins two awards in retail banking and digital transformation banking
27/11/2020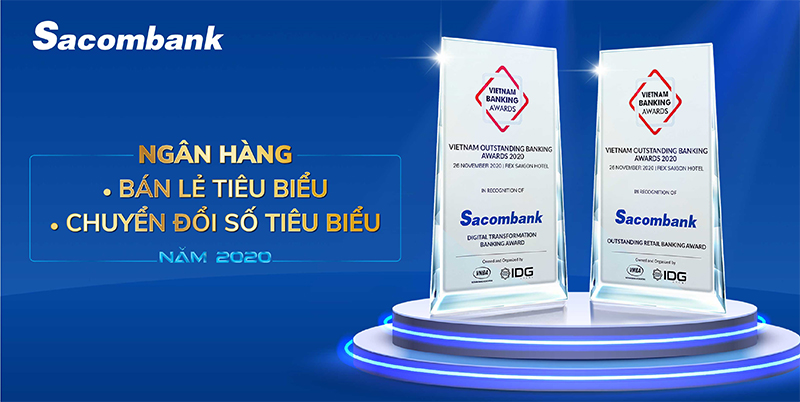 The voting council voted Sacombank as the "Outstanding Retail Bank" based on its operation scale with the wide network of transaction points, ATMs and POS, stable customer growth, a wide range of modern products and services to best serve customer needs.
VRegarding the "Outstanding Digital Transformation Bank" award, Sacombank was recognized for its effective investment in IT infrastructure to ensure users' security, impressive growth in the number of customers using its internet and mobile banking services as well as the volume and value of transactions, offering outstanding service quality and customer care, etc.

Mr. Nguyen Minh Tam, Deputy General Director of Sacombank (left) receives the "Outstanding Retail Bank 2020" award and
Mr. Tran Thai Binh, Director of IT Division of Sacombank (right) receives the "Outstanding Digital Transformation Bank 2020"
VWith a vision of becoming the leading modern and multi-functional retail bank in Vietnam, Sacombank has constantly increased its quality of products and services, in which focusing on developing digital banking which is the top goal to win the retail market, which is currently very potential and challenged.
Since 2010, Sacombank applied digital technology to create modern transaction channels such as Customer Service Center, to integrate banking model of online transaction channels (Internet Banking and Mobile Banking). In 2015, it was the first bank to issue and accept standard EMV cards on all POS and ATMs. In 2017, the bank issued the first contactless payment cards in the market and deployed the global EMV standard-based QR code payment method. In 2018, it launched the financial management application Sacombank Pay on smartphones. In 2020, Sacombank has applied the most advanced technologies to launch online authentication (eKYC), NFC contactless payments on mobile phones and Tap to Phone technology to accept contactless payments on mobile phones.
In addition, Sacombank has also focused on digitizing internal activities. In 2018, the bank digitized sales processes, customer service and marketing (CRM), applied the digital work environment (Microsoft Team), digitized business processes and online approvals towards paperless offices, using cloud computing. In 2019, it digitized the credit approval process (LOS), implemented online training, upgraded the core bank T24-R17, applied artificial intelligence (chatbot), Robot technology (RPA), etc. In 2020, Sacombank was the first bank to successfully hold the online Annual General Meeting of Shareholders with electronic voting. It is also the year Sacombank has initially put in operation the international standards-based Cyber Security Operation Center.
Given the solid groundwork of digital banking, the strengths of a wide operation network of nearly 570 transaction points, the competitive product policy, service quality and brand reputation, Sacombank has achieved impressive business results in retail banking. As at October 31st, 2020, Sacombank added nearly 700,000 customers compared to the beginning of the year; total deposits from economic organizations and individuals were approximately VND440,000 billion, up 7%; total outstanding loans were over VND320,000 billion, increased by 9%; fee income increased by 25.3% year-on-year.