The opportunity to get 50% refund when paying bills with Sacombank credit cards
06/11/2020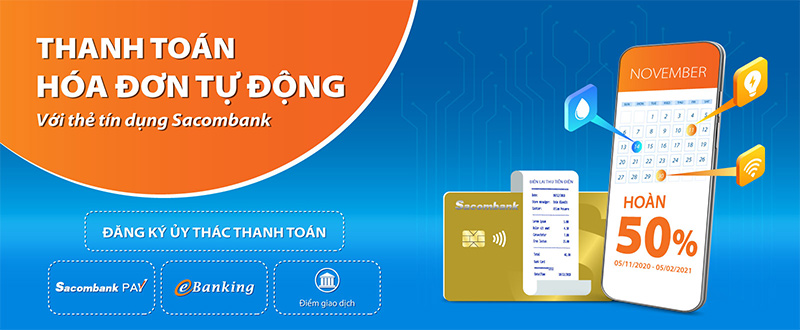 Automatic bill payment is a service that customers only need to register once, Sacombank will automatically deduct money from customers' accounts or credit cards to pay at the time bills are generated. Currently, Sacombank has expanded its network with more than 300 providers nationwide, helping customers pay a variety of bills such as electricity, water, telecommunications, cable TV, tuition ... in a fast, convenient and unlimited method.
There are 3 ways for customers to register for the Automatic Bill Payment service: via Sacombank Pay application; via eBanking or directly register at all Sacombank transaction offices nationwide.
In addition, Sacombank is also implementing the program "Open card - Get immediate cash back", refund up to 50% of the annual fee of the first year to customers opening new credit cards and spending from VND200,000 within 30 days from the activation date. Accordingly, the refundable annual fee applicable to Sacombank's credit cards is applied for: JCB Classic, Visa Classic with refund amount is VND149,500; JCB Ultimate, World Mastercard, Visa from Platinum class or above will be refunded VND500,000; Gold Mastercard, Napas, UnionPay get a maximum cashback of VND199,500. The total amount of money that Sacombank will cash back to cardholders during the program is expected to be more than 5.5 billion dong. The program lasts until December 31, 2020.
Sacombank credit cards provide customers with many benefits: making payment, shopping, spending first, paying later with interest free period up to 55 days without collateral; accumulate bonus points for redemption or refund; 0% interest installment for payment transactions anytime, anywhere; cash withdrawal at Sacombank ATMs; scan the QR code to pay and withdraw money without a plastic card; Online Shopping; enjoying up to 50% off for catering services, shopping, travel ...; Integrating into Sacombank Pay application which supports to manage the card comprehensively 24/7 and proactively perform interbank transfer, phone top-up, making bill payment, registering for instant consumer loans, installment registration ... In order to open the credit card, customers only need to have income from VND5 million / month if living in Hanoi, Ho Chi Minh City and 3 million / month if they live in other provinces.
For detailed information, please kindly contact Hotline 1900 5555 88 or 028 3526 6060; access to website khuyenmai.sacombank.com and register online at website dangkythe.sacombank.com.