A great number of new incentives and solutions for Corporate cards at Sacombank
29/04/2021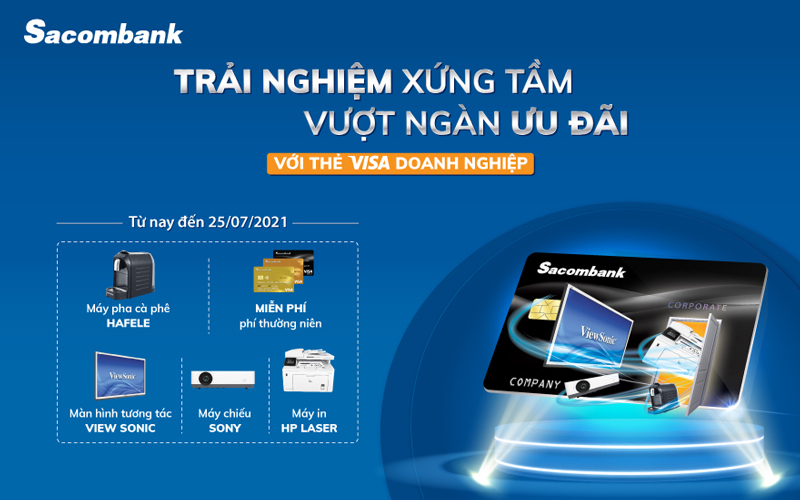 From April 26, 2021 to July 25, 2021, businesses that open new corporate credit cards or corporate payment cards at Sacombank (collectively referred to as corporate cards) will enjoy the annual fee waiver. In particular, 150 corporate customers with the highest total transaction turnover who meet the program conditions will be given a premium coffee machine.
In addition, all customers who are using corporate cards for payment transactions with a total turnover of at least VND10 million will be able to participate in a lottery program with attractive prizes and utilities as follows: 55-inch ViewSonic, Sony projector and HP printer. Sacombank corporate card is a solution to help customers to limit cash transactions; flexibly manage accounts anytime, anywhere and meet the short-term capital needs of the business. When making payment/shopping transactions, businesses will be
With the Sacombank Visa business card, customers also enjoy many incentives on applications and office solutions from global partners: Google Ads, Facebook Ads, Microsoft Office 365, Pipedrive, Skyroam...; preferential treatments for organizing conferences, seminars, cuisine at Metropole, Gala Center, Asia East, Sushi world...
Moreover, in order to help businesses be proactive in card spending management, Sacombank also deploys corporate card management features on the financial management application Sacombank Pay (applicable to the individual authorized to use the card) such as: create/change pin code, activate/unlock card, view limit/debit balance/ statement/card transaction history.
In addition, in May 2021, Sacombank cooperated with international card organization Visa to launch the Business Card Spending Reporting Solution (Sacombank Business Reporting – VBR in short) to help businesses effectively manage business expenses and reduce manual reporting procedures. With this tool, businesses can customize expense categories/tables to provide important information through reports that can be retrieved depending on needs. From there, helping businesses analyze the effectiveness of using financial resources through corporate credit cards, closely monitor cash flow and business expenses.