Experience to the top with the partnership Sacombank FLC Infinite and Sacombank FLC Platinum credit card duo
23/10/2021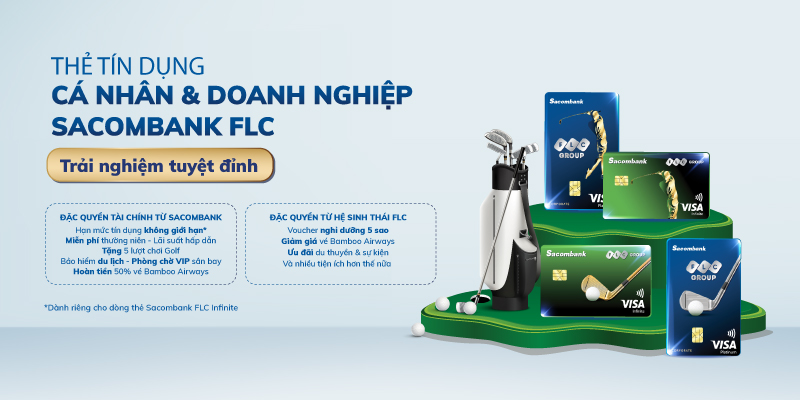 Inherited the high technology of Sacombank modern banking system and FLC Group ecosystem's 5-star utilities, Sacombank FLC Infinite and Sacombank FLC Platinum credit cards offer a full range of a modern payment method's benefits and features, which helps optimize cardholders' advantage when using both organizations' products and services.
In addition to their solution to financial reserve, Sacombank FLC partnership credit cards have many premium privileges such as: free 5 golf rounds at the FLC gofl courses, up to 40% discount off golf rounds charge, 30% discount off golf tournament conducting cost and exlcusives when buying Golf FLC Biscom Membership card; 50% cashback of Bamboo Airways air ticket fare or 10% discount off group ticket fare; up to 50% discount off business conference and seminar organization or up to 30% discount off hotel booking, F&B at FLC Hotels and Resorts. Especially, Sacombank FLC Infinite cardholder will get unlimited free access to over 1,300 airport VIP lounges around the world and a 3 day 2 night vacation package at FLC Hotels and Resorts.
Moreover, new cardholders will get the first-year annual fee waiver and complimentary high compensation insurance packages including: global travel insurance worth up to VND 23 billion, airport baggage loss worth up to VND 23 million, airflight/baggage delay worth up to VND 500,000 per hour and airflight cancellation worth up to VND 5,8 million.
Besides exclusive benefits, Sacombank FLC partnership credit cards have custom designs for each gender to represent the cardholders' personality and delicacy. The cards are well-equipped with modern securtiy technologies including Tokenization, EMV chip, 3D secure for online payment to assure the customer's safety.
The launch of the credit card duo marks a new development of the strategic partnership started from April 2021 between Sacombank and Bamboo Airways alongside with Bamboo Airways ecosystem.
The strategic partnership of the two leading organizations in Vietnam has been expected not only to leverage the competitiveness but also to exploit the all-in-one FLC's products and services in accompany with the strength of Sacombank modern banking and financial services, which meets the urgent requirement of customers when entering the "new normal".
According to both organizations' leaders, the credit cards will create a premise of launching the following breakthrough partnership products, pressing on to build a wide self-contained ecosystem with multiple services to benefit overseas and local customers.
Further information, kindly contact VIP Hotline 1800 5858 23 or +8428 3526 6060, visit khuyenmai.sacombank.com and register the new cards at https://card.sacombank.com.vn/register.