"Making Online payment – Getting great deals" with Sacombank
02/04/2021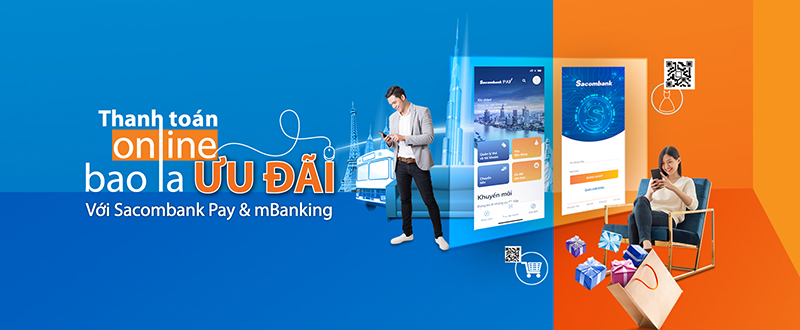 Specifically, customers will be refunded 50% (maximum VND 200,000) when buying air / train / bus tickets, booking hotels, each customer will be refunded once for each service during the program. Besides, customers will be refunded 20% (maximum VND 100,000) from Monday to Thursday, 50% (maximum VND 100,000) from Friday to Sunday every week when paying by QR code; direct discount 20% off (up to VND 50,000) when shopping online with discount code ILOVESACOMBANK. Each customer can apply the offer once/week/app for each promotion item. The refund amount will be deposited into the customer's account/card no later than 30 days after the end of the program.
Sacombank mBanking and Sacombank Pay are the two safe and secure online financial management applications, which have been appraised and certified by reputable international auditing organizations. Customers can download Sacombank mBanking and Sacombank Pay for free from the App Store or Google Play to their mobile devices for installation and use.
Sacombank mBanking is fully integrated with modern banking features and utilities, providing customers with many digital banking experiences. Highly appreciated by experts and trusted by customers, Sacombank has been constantly improving and adding safe and fast transaction facilities anytime, anywhere. In addition to the basic functions such as: money internal – external transfer system, bill payment, credit card payment, phone top-up/prepaid card, foreign currency sale..., Sacombank mBanking also provides many features, preeminent facilities such as: booking air/train/bus/hotel tickets, online shopping, making payment by QR code, buying non-life insurance and many other services...
Sacombank Pay is fully integrated with modern banking features and utilities to bring customers many interesting digital banking experiences such as opening accounts/credit cards, linking with domestic cards and international cards of all banks; actively manage cards and accounts; getting consumer loans with preferential interest rates from 0.65%/month; opening saving account; transferring money to any recipient via personal account, card, mobile number or QR code; making QR payments globally and withdrawals by scanning QR codes; shopping through VnShop; buying Vietlott lottery tickets; making hotel reservations; buy air/bus/train tickets, movie tickets, Urbox e-gifts; registering and managing purchases/advance installments with 0% interest rate; making utilities bills ….
For detailed informatin, customers please kindly contact: