March 8 - with enormous great deals at Sacombank
04/03/2021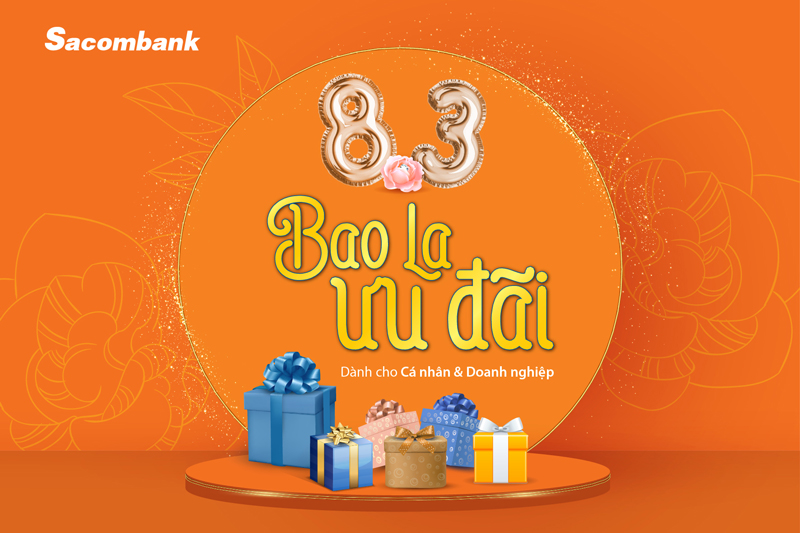 Accordingly, from March 8 to March 31, 2021, the first 830 female customers to open a payment account on Sacombank Pay were given VND 83,000; Sign up for a service contract to preserve property, service of using safe deposit box for 6 months or more will get 3 months free of charge; enjoying reducing interest rates from 6 months to 1% / year when registering a new loan at the counter from March 8 to March 13, 2021 or when registering online loan at Sacombank's website from March 8 to March 14, 2021 and get disbursement in March.
Especially, on March 8, 2021, all female customers who make transactions at Sacombank will receive many incentives such as: 30% discount on counter transaction fees; The first 20 female customers who opened new combos and deposited into payment accounts VND 830,000 were awarded VND 83,000 and offered free of charge for 06 months service fee of using the combo; The first 830 customers using 24/7 interbank transfer with the amount of VND 2 million or top-up phones from VND 200,000 on Sacombank eBanking (including Internet Banking / Mobile Banking) will receive VND 83,000. In addition, when making interbank money transfers on March 8, 2021, customers will receive double lucky numbers to take part in daily lucky draw campaign "Daily Offer - Pick up SH Mode".
From now to March 31, 2021, the Sacombank International Credit Card holders can receive many incentives when paying and shopping with their cards such as enjoying discount from VND 49,000 to more than VND 200,000 at Hoayeuthuong.com, Flowerstore.vn; receive cashback of VND 200,000 for the bill from VND 1,500,000 at the San Fu Lou, Sorae Sushi & Lounge, Di Mai restaurants and up to 20% off at Yoshino, Atrium Buffet, The Pizza Company; 20% discount for female customers at Joylyan Fashion store; up to 35% off at Oracle Clinic and many other incentives when buying jewelry at PNJ, Doji, Hera Jewelry & Diamonds.
In addition, from now to May 31, 2021, Sacombank will launch a free conversion fee campaign for 0% instalment product for customers who are Sacombank international credit cardholders when participating in Vietnam Dai-ichi Life Insurance. The promotion will be applied for the first premium period. In particular, insurance contracts that satisfy the above preferential conditions that the buyer and / or the main insured person is female will be received an additional VND 500,000 when submitting document from March 1 to March 15 2021 and contract being issued in March 2021.
For corporate customers, from now to March 31, 2021, Sacombank also offers many incentives such as free payment accounts, e-banking, account transactions, payroll service... Enterprises are also free to choose a beautiful 6-digit account as demanded when opening a new payment account and receiving free annual fee for the first year when opening a new credit card or debit card. In addition, Sacombank will send flowers to congratulate the business women of the VIP Enterprise segment on the March 8.