Sacombank and Dai-ichi Life Vietnam upgrade the level of exclusive insurance agency contract
27/12/2021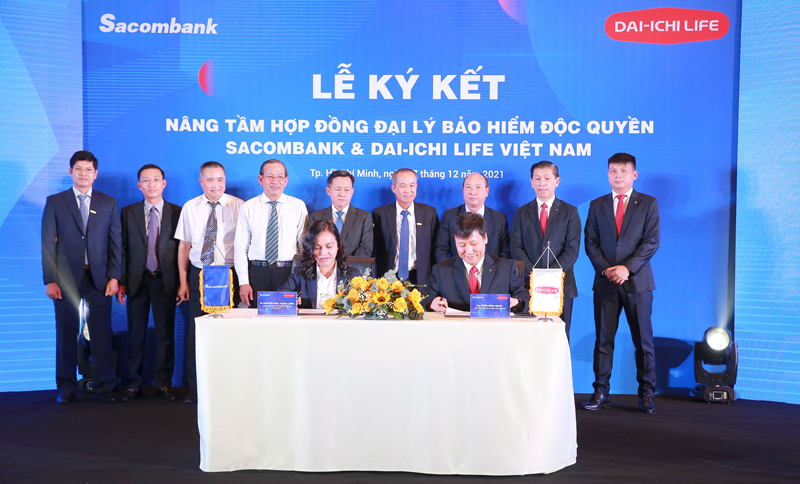 Accordingly, the cooperation goal of both parties will be raised to a new level of commitment value, commensurate with the potential and expectations of both sides in the coming time. At the same time, it continues to affirm to bring the best benefits to customers when choosing to participate in insurance of Dai-ichi Life Vietnam distributed through Sacombank.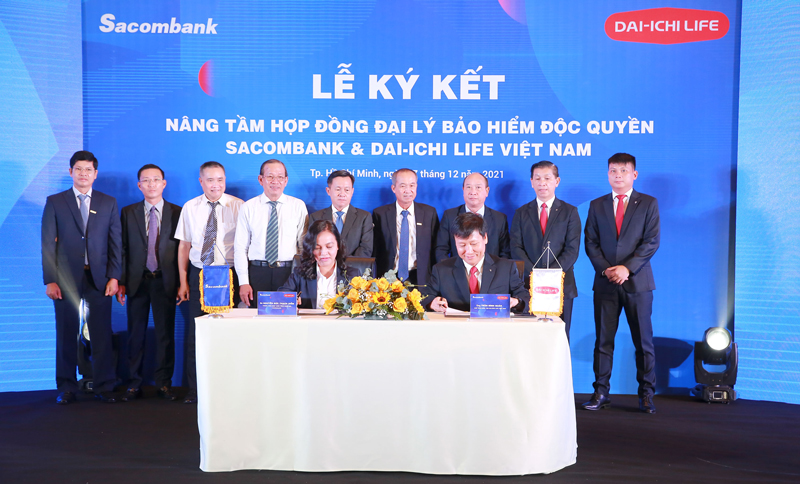 Ms. Nguyen Duc Thach Diem, member of the Board of Directors cum CEO of Sacombank and Mr. Tran Dinh Quan, Chairman and General Director of Dai-ichi Life Vietnam perform the signing ceremony with the witness of (from left to right): Mr. Pham Van Phong - Standing Vice Chairman of Sacombank's Board of Directors, Mr. Tran Minh Triet - Head of Sacombank's Supervisory Board, Mr. Nguyen Duc Lenh - Deputy Secretary of Banking Division Party Committee cum Head of General Department of the SBV, Ho Chi Minh City branch, Mr. Nguyen Hoang Minh - former Deputy Director of the SBV Ho Chi Minh City branch, Mr. Tran Dinh Cuong - Deputy Director in charge of the State Bank of Vietnam Ho Chi Minh City branch, Mr. Duong Cong Minh - Chairman of the Board of Directors of Sacombank, Mr. Nguyen Quang Huyen – Deputy Director of Insurance Supervision & Management Department of the Ministry of Finance, Mr. Dao Quoc Trung – Deputy General Director of Dai-ichi Life Vietnam Expanded Distribution Channel and Mr. Dang Hong Hai – Deputy CFO cum assigned actuary expert of Dai-ichi Life Vietnam.
After more than 4 years of cooperation, Sacombank and Dai-ichi Life Vietnam have provided high-class financial services to more than 540,000 customers with a total revenue of nearly VND6,000 billion. In addition, the two businesses have made efforts to support and settle insurance benefits for nearly 1,300 cases with a total value of up to VND 100 billion. Sacombank has also applied technology in sales such as gradually implementing online sale of insurance products on Sacombank Pay application to improve experience and shorten processing time for customers and apply a variety of payment methods for new insurance premiums as well as annual renewal fees through diverse, convenient and safe forms to help customers experience the full service at Sacombank when participating in insurance.

The signing ceremony to elevate the exclusive insurance agency contract is a strong commitment, showing the determination to accompany Sacombank and Dai-ichi Life in order to bring the best service quality, constantly diversifying product ranges, optimizing added value brought to all customers.
Besides business efforts, Sacombank and Dai-ichi Life Vietnam have carried out many meaningful activities for the community such as donating gratitude houses, sponsoring clean water purification systems and thousands of scholarships to students that overcoming difficulties in all provinces and cities across the country with a total donation of more than VND3 billion.
Notably, Sacombank and Dai-ichi Life Vietnam were recently announced as the "Most Trusted Bancassurance Provider Vietnam 2021". This is an annual international award organized by Finance Derivative - a prestigious magazine specialized in business and financial analysis under FM.Publishing (Netherlands), to honour units and business leaders with outstanding achievements globally in the bancassurance field (distribution of insurance through banking channels).