Sacombank cooperates with Vietnam Airlines to launch an outstanding international credit card
13/04/2021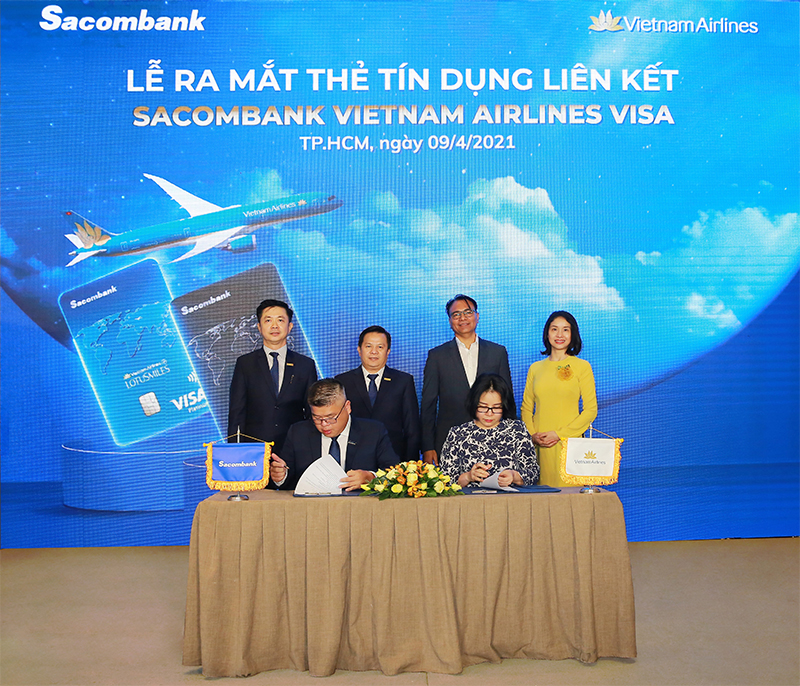 Not only a backup financial source and a modern payment tool, this linked credit card also integrates many outstanding privileges, exclusively for customers who regularly use Vietnam Airlines' flight services. Specifically: 1) When customers making payment via these cards, they will accumulate miles converted according to the payment amount; 2) When meeting the prescribed payment volume, customers will be upgraded to Lotusmiles card; 3) Customers who want to change miles to Vietnam Airlines tickets will be offered a discount for reward miles.
In addition to the above-mentioned outstanding privileges, customers also enjoy exclusive offers for this card line such as: free foreign currency conversion for the first year, preferential foreign currency conversion fee from the second year onwards; 100% refund of annual fee for the first year; offering a global travel insurance package worth up to VND 11.4 billion; and enjoy many other attractive promotions at Sacombank's affiliated payment acceptors.
Mr. Nguyen Minh Tam, Deputy General Director of Sacombank said: "In order to contribute to creating a push to help the tourism and travel market quickly return to activity, Sacombank cooperates with Vietnam Airlines to launch a credit card product. In conjunction with two card classes, Sacombank Vietnam Airlines Visa Signature and Platinum, promises to bring customers across the country outstanding experiences in terms of privileges through many incentives such as accumulating bonus miles, upgrading to Titan Lotusmiles card, reward miles, global travel insurance, free foreign currency conversion, annual refund…"
Mr. Trinh Hong Quang, Deputy General Director of Vietnam Airlines also said: "Service quality is one of Vietnam Airlines' top priorities. We offer a wide range of products, maximizing the experience for passengers. Through the credit card associated with Sacombank, Vietnam Airlines is very pleased to welcome customers of one of the leading banks in Vietnam, together to bring the best service in two fields of finance and air transport with many outstanding privileges and incentives."
Ms. Dang Tuyet Dung, Visa Director in Vietnam and Laos, shared: "Towards the cashless society goal of the Vietnamese government, Visa and its partners and banks are committed to constantly bringing customers fast, safe and convenient digital payment solutions. With the associated credit card linked between Sacombank and Vietnam Airlines, we expect that consumers will enjoy many benefits from outstanding offers, especially in the fields of tourism and aviation, making a positive contribution to the efforts of consumers. economic recovery and development during and after the pandemic".
For further information, please kindly contact Hotline 1900 5555 88 or 028 3526 6060; access to website khuyenmai.sacombank.com and register for online card at website https://dangkythe.sacombank.com;