Sacombank donates VND 30 billion to support people in difficulty due to covid-19 in Long An
23/07/2021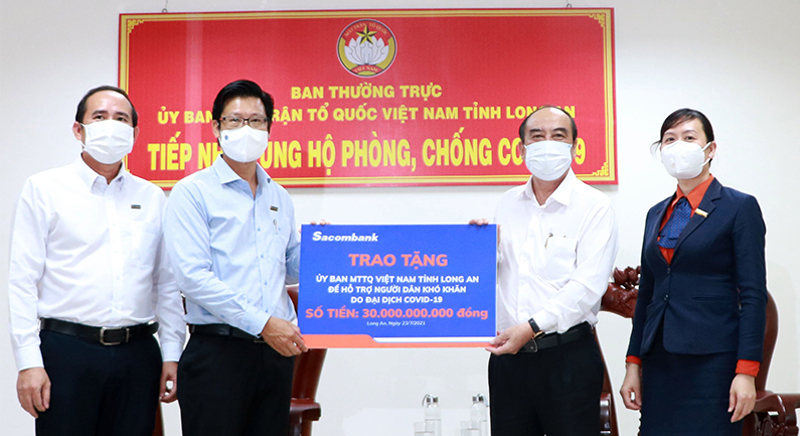 Also in July 2021, Sacombank also donated 15,000 Covid-19 quick test kits worth more than VND 2 billion to The Center for Disease Control of Ho Chi Minh City; donated 132,000 N95 medical masks worth nearly VND1.3 billion to a number of agencies, hospitals, People's Committees, Vietnam Fatherland Front Committee in Ho Chi Minh City; donated more than VND 1 billion for equipment investment to the People's Committee of Go Vap District to serve the vaccination campaign; donated VND 200 million to the Vietnam Fatherland Front Committee in District 3 for pandemic prevention.
Previously, Sacombank contributed VND10 billion to the Covid-19 Vaccine Fund established by the Prime Minister and spent VND10 billion to accompany organizations such as the Vietnam Fatherland Front Central Committee, the Department of Health, Labor Confederations, Red Cross... in provinces and cities across the country in the implementation of Covid-19 pandemic prevention and control.
In addition to supporting the pandemic prevention and control, Sacombank has just implemented a 1% annual interest rate reduction for corporate and individual customers who have loans at the Bank in industries directly affected by the Covid-19 pandemic such as tourism, travel, transportation, restaurants - hotels - resorts, education, healthcare, etc., at the same time, the Bank continue to offer incentives/free services, debt structure and decrease lending interest rate bracket. The bank is also deploying a preferential capital of up to VND 10,000 billion with an interest rate of 4% p.a, with a maximum 6 months term loan for exporters as well as supporting businesses to overcome difficulties in business activities.