Sacombank Mastercard cards to debut new insurances
20/05/2021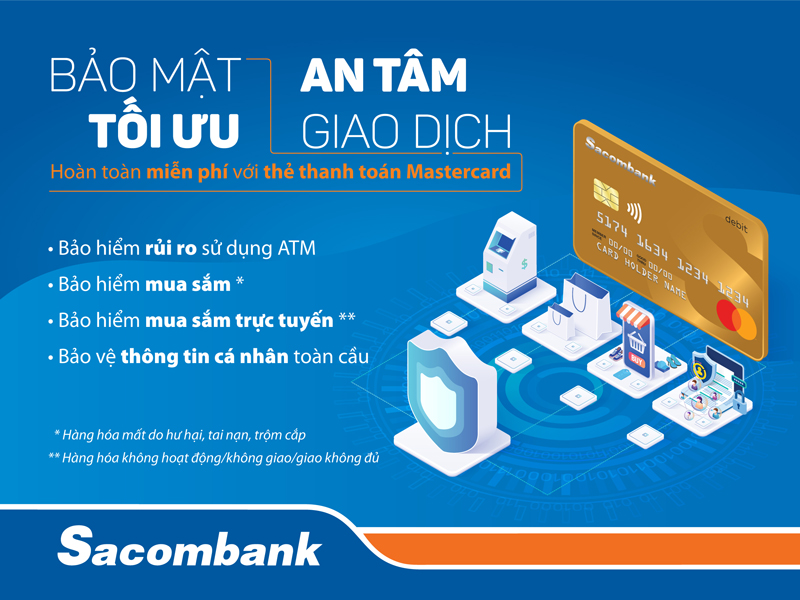 Accordingly, cardholders with be covered up to VND 2,250,000/incident/year by the Purchase Protection insurance for any purchase online or at store and by the ATM Protection insurance for any robbery case within 30 minutes after cash withdrawal at ATM, including first aid fees within 12 hours for any damages occurred. The insurances are automatically set as free of charges for Sacombank Mastercard debit cards.
In advance, Sacombank Mastercard debit cards have had 2 free insurances including ID Theft Protection – Alert and E-commerce Protection. With the 4 insurances above, cardholders' personal information and transactions will be all protected all. To claim for compensation, they just need to log in and request by sending related papers on https://vn.mycardbenefits.com/.
Especially, from now to Dec 31 2021, customers opening or converting from local cards to Sacombank Mastercard debit cards will get waiver for the first year annual fee and cash withdrawal fee atm Sacombank ATMs nationwide. Besides, cardholders will be free-charged when transferring fund to any local account/card via Sacombank Pay app till Jul 31 2021.
Sacombank Mastercard debit card is linked to a deposit account at Sacombank. Cardholder can use the card balance to make transactions everywhere, shop online or via POS/mPOS, withdraw cash at all Sacombank ATMs nationwide, get discount up to 50% for dining, shopping, travelling etc.
Further information, kindly contact Hotline 1900 5555 88 / +8428 3526 6060 or visit here and apply for card here.