Surfing Sacombank JCB, receiving luck and instant gifts
28/06/2021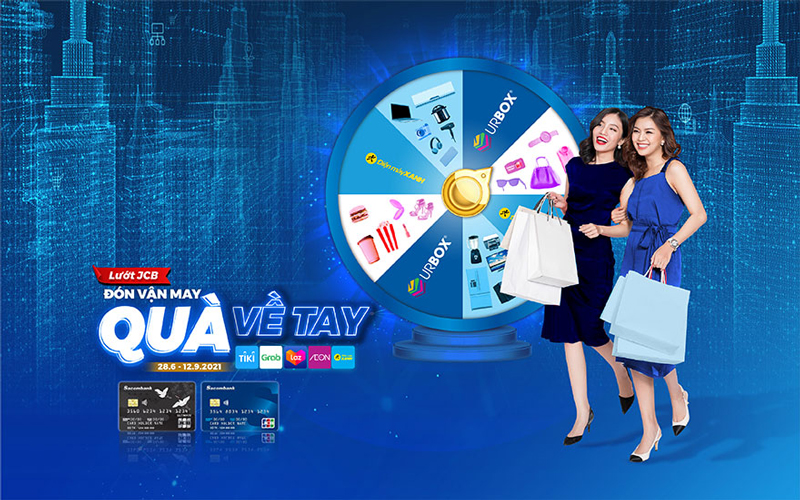 Accordingly, after opening a new JCB international credit card and making transactions, the cardholder will receive 1 lucky draw code for each transaction worth VND200,000 with the chance to win attractive prizes at the end of the program: 1 first prize is Dien May Xanh Voucher worth VND30 million; 1 second prize is Dien May Xanh Voucher worth VND10 million; 1 third prize is Dien May Xanh Voucher worth VND5 million; 30 consolation prizes, each of which is 1 e-voucher worth VND2 million. Especially, every weekend during the promotion period, 10 cardholders will have the opportunity to win lucky prizes, each of which is 1 e-voucher worth VND500,000. Each customer is entitled to receive multiple lucky draw codes during the promotion period and the winning codes will be sent to customers via SMS.
Besides, Sacombank has many other attractive incentives for Sacombank JCB international credit card holders such as: at Tiki, save up to VND250,000 for bills from VND1 million; at Lazada, save VND300,000 for orders from VND1,500,000, VND200,000 for orders from VND1 million, VND100,000 for orders from VND600,000; at website https://www.dienmayxanh.com, save up to VND500,000 when shopping online every Saturday and Sunday; get vouchers worth up to VND200,000 when shopping at AEON supermarkets… and many other appealing offers.
Sacombank JCB international credit card - a card issuer from Japan - is an essential backup financial source for all spending needs thanks to many utilities such as: buy now pay later, interest-free for up to 55 days; no-collateral; make payments and withdraw money around the world, especially make payment via POS machine or QR code at card acceptance points around the world and withdraw money without plastic cards via QR code at Sacombank ATMs nationwide; cash withdrawal limit of 90% of credit limit at all domestic and international ATMs; online shopping; 0% interest instalments for payment transactions anytime, anywhere and easy money withdrawal at Sacombank ATMs; bonus points when shopping to redeem gifts or get refunds; discount up to 50% when dining, shopping, travel... To open a card, customers are required to have income from VND5 million/month if they live in Hanoi, Ho Chi Minh City and VND3 million /month if they live in other provinces.
For detailed information, customers please kindly contact Hotline 1900 5555 88 or 028 3526 6060; access to website khuyenmai.sacombank.com and register online at card.sacombank.com.vn.