Touch payment to get a refund with Sacombank Pay
18/03/2021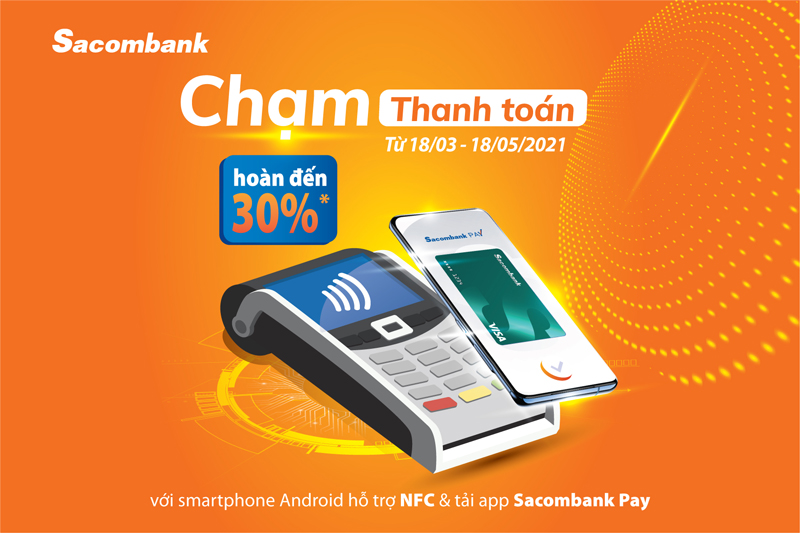 NFC is a contactless payment feature by mobile phone - for customers using Sacombank Pay application on Android mobile phones with NFC technology support. This feature allows users to turn their mobile phone into a non-physical Visa card for contactless payments on NFC POS or Tap to phone feature without having to carry a card.
In addition, from now on, customers can use Sacombank domestic debit and credit cards to pay with QR codes via Sacombank Pay application at stores in Thailand. Previously, Sacombank pioneered QR payment method following international standards by Visa, Mastercard, JCB, UPI globally.
Sacombank Pay is a financial management application, fully integrated with modern banking features and utilities to provide customers with many interesting digital banking experiences such as opening accounts / credit cards, linked to domestic and international cards of all banks; actively manage cards accounts; making consumer loans with preferential interest rates from 0.65% / month; making deposit account; transfering money to any recipient via personal account, card, mobile phone number or QR code; pay and withdraw money by scanning a QR code; shopping through VnShop; buy lottery tickets Vietlott; hotel reservation; purchase of airline / bus / train tickets, movie tickets, Urbox electronic gifts; register and manage purchases / instalments loan with 0% interest; making utilities payments; phone top-up ... In particular, customer information on Sacombank Pay will be kept confidential according to the PCI DSS standard - the highest certification in terms of security and confidentiality in the field of issuing and accepting valid cards globally. Customers can download Sacombank Pay free of charge from the App Store or Google Play to their mobile devices and register by phone number.
For more information, please kindly contact Hotline 1900 5555 88 or 028 3526 6060; access to website khuyenmai.sacombank.com and register card online at website dangkythe.sacombank.com.