90 customers to win the "Immediate transactions" and "Everyday protection" promotion programs
17/01/2022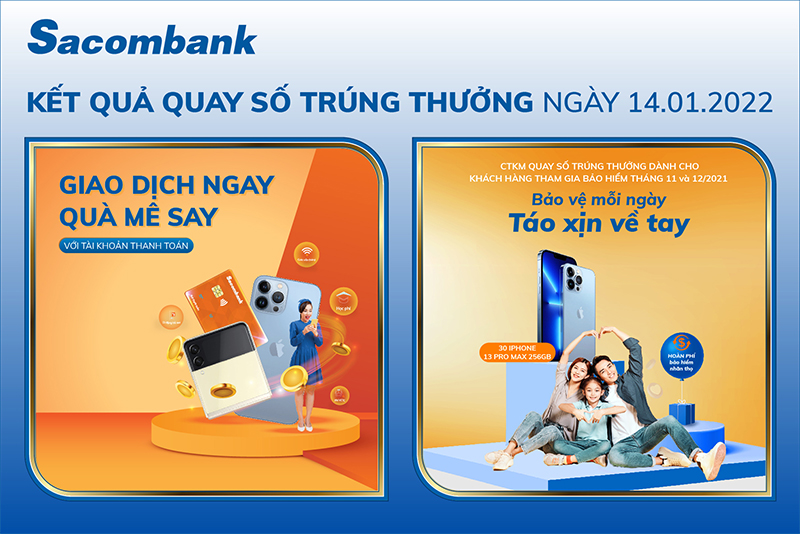 In particular, the "Immediate transactions bring passionate gifts" promotions program identified 60 lucky customers to win 2 first prizes – iPhone 13 Pro Max 128GB worth VND 35 million: 3 second prizes - Samsung Galaxy Z Flip3 5G worth VND 25 million and 55 third prizes – VND 1 million cashback to customer's deposit account. The "Immediate transactions bring passionate gifts" promotions program was conducted from Oct 18, 2021 to Dec 31, 2021 for individual customers owing inactive deposit accounts from 6 months and above dated from Sep 30, 2021, making transactions of withdrawing/transferring/depositing money with an amount of minimum VND 50,000 via the accounts mentioned above and having the accounts balance of at least VND 100,000 at the end of Dec 31, 2021.
The "Everyday protection comes with complimentary Apple products" program which belonged to the series of promotions for customers registering insurance products in Nov and Dec 2021, has identified 30 lucky customers to win 30 iPhones 13 Promax 256GB (VND 40 million/item). This program was eligible for customers registering new Dai-ichi Life Vietnam life insurance products of An tam hanh phuc, An tam dau tu, Dai gia an phuc, Nang buoc tuong lai, K-care via Sacombank. Customer will get one code for every contract worth of VND 3 – 10 million and continues to accumulate the next codes for every VND 10 million insurance fee paid. In addition, customers will receive refunds of up to VND 8 million for each eligible contract and 100% cashback on 0% instalment payment plan conversion fee of insurance fee payment transaction made by Sacombank credit cards. The first 200 customers buying K-Care Cancer insurance every month will be 20% refunded (maximum VND 1 million per contract) on the insurance fee.
Further information, kindly contact Hotline 1900 5555 88 or +8428 3526 6060, or visit khuyenmai.sacombank.com.