Enjoy 50% refund when making payment with Sacombank Mastercard
12/11/2022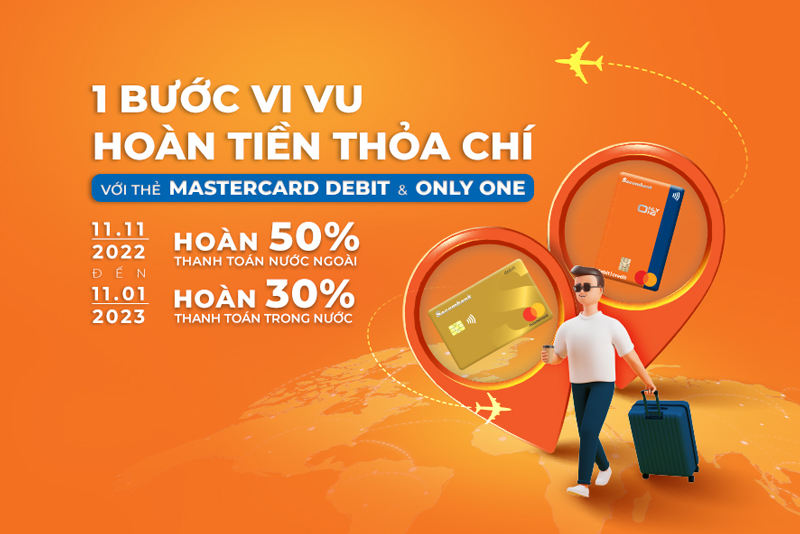 From now until the end of 11/01/2023, when making payment with Sacombank Mastercard debit cards, customers will have a chance to get 50% refund. The total incentive value is up to VND 2.5 billion.
In addition, from now until the end of 31/12/2022, customers spend from VND 1 million with Sacombank Mastercard debit cards will receive an 1.5% additional refund, each customer has the opportunity to be refunded up to VND 900,000 per card.
Moreover, the cardholders will enjoy other 4 privileges throughout the card validity, specifically, when shopping online or at stores, cardholders will be insured when the goods are damaged or stolen in the first 180 days from the day purchase with a maximum value of VND 4,500,000 per year.
For ATM transactions, the cardholders will be protected from the risk of robbery within 30 minutes after withdrawing money at ATMs worldwide. If wounded by the robbery, customers will be reimbursement for first aid costs with a maximum value up to VND 2,250,000 per year. In addition, personal information of the Sacombank Mastercard cardholder is completely confidential thanks to its 24/7 monitoring system, which will send an alert email to the cardholder as soon as detecting risk of information leakage.
The Sacombank Mastercard debit card provides variety of services such as: Payment at millions of POS worldwide; safe and fast online payment with OTP code; cash deposit to Sacombank card/account at Sacombank ATMs and counters or inter-banks fund transfers receipt; interest earned on card balance at the interest rate of the current account; etc. Customers can directly manage their account and all transactions with the card right on the Sacombank Pay app.
For more information, please contact Hotline 1800 5858 88 or visit website sacombank.com.vn. Register for online card opening at website https://card.sacombank.com.vn/.