Enjoy many incentives when opening a new Sacombank Visa payment card on Sacombank Pay app
11/05/2022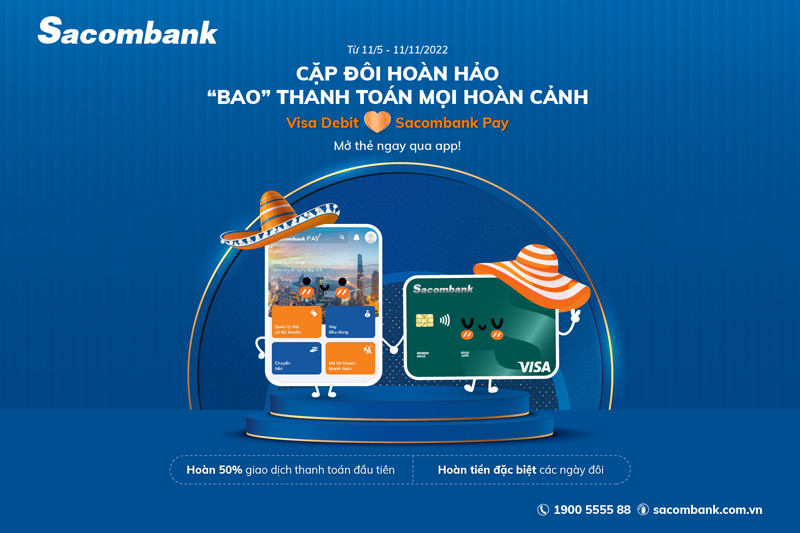 In particular, customers can receive 50% refund (maximum VND 100,000) for payment transactions from the first VND 100,000 spending. Especially, on double days (6/6, 7/7, 8/8, 9/9, 10/10, 11/11) will get refund of VND 200,000 for payment transactions from VND 1 million. Each customer is entitled to a maximum refund of VND 500,000 during the program.
In addition, from now until the end of 30/9/2022, can receive discounts of up to VND 200,000 when shopping at Tiki, Lazada, Pharmacity... or book hotel rooms at Agoda, Booking.com websites with Sacombank Visa card. Customers only need to perform a few simple steps to open Sacombank Visa payment card on Sacombank Pay application. After successfully opening the card, customers can activate it on Sacombank Pay application for online transactions the next day, receive a physical card at the selected Sacombank branch/transaction office and compose a message with the following syntax to expand the scope of transactions.
Sacombank Visa payment card with many utilities such as: free annual fee for the first year, making transactions around the world, especially scanning QR code to pay and withdraw money without plastic card; Online Shopping; up to 50% off when dining, shopping, travel...; Sacombank Pay is a financial management application, helping to manage comprehensive cards 24/7, inter-bank transfers, phone top-ups, bill payments, fast consumer loans, installment registration...