Excellent cashback combo for customers who register to open a new Sacombank JCB Platinum payment card
27/06/2022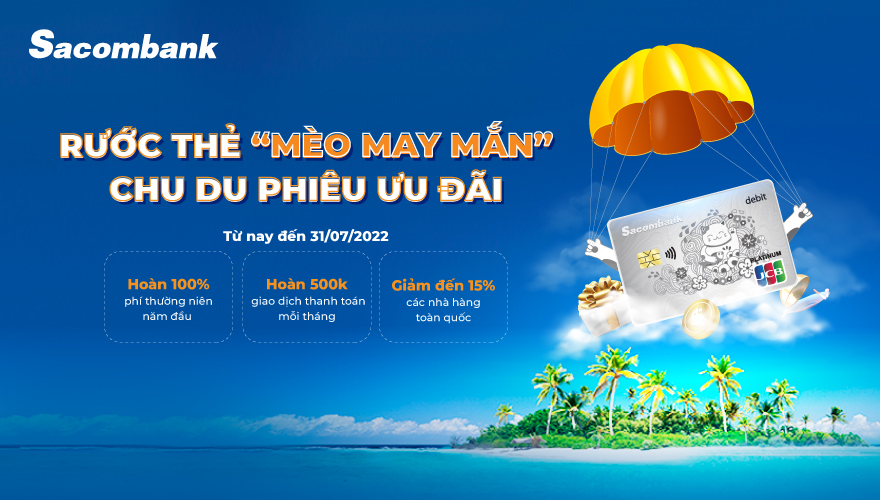 Accordingly, from now until the end of July 31, Sacombank will launch the promotion program "Lucky cat card procession - Preferential travel" for customers who open new Sacombank JCB Platinum payment cards.
As long as customers successfully register for card issuance and have a payment transaction of at least VND 400,000 within 30 days from the date of card activation, 100% of the first year annual fee will be refunded (VND199,000). The promotion is applied to 1,500 first customers who meet the conditions.
In particular, Sacombank JCB Platinum cardholders will be immediately refunded VND500,000 when the total cumulative payment transaction value reaches VND 3 million/month, of which each transaction is considered to be at least VND 200,000. The number of offers is limited and each customer is entitled to 1 refund timeduring the promotion period.
Sacombank payment cards are the perfect way for customers to manage their finances safely and securely. The card helps customers connect to their current account at Sacombank to withdraw cash, actively look up information, use the money in the account to make payment transactions, shop at card-accepting points, or shop online through Sacombank e-banking system, Sacombank Pay application.
Particularly for Sacombank JCB Platinum cardholders, they will receive gifts and discounts up to 15% of bill value at many famous restaurants; free use of VIP lounge service at more than 60 airports in Japan, China, Hong Kong, Singapore, Korea, Thailand and Vietnam; is arranged 24/7 global support hotline service when booking car, hotel, restaurant, golf course in Japan; free golf experience service in Vietnam and Japan; global travel insurance privileges with a value of up to VND 11.6 billion…
For detailed information, please kindly contact Hotline 1800 5858 88 - 1900 5555 88 - 028 3526 6060 or access to website sacombank.com.vn. Register for card online at online tại website https://card.sacombank.com.vn/.