Excited "Steps for the community" – Stage 8
15/10/2022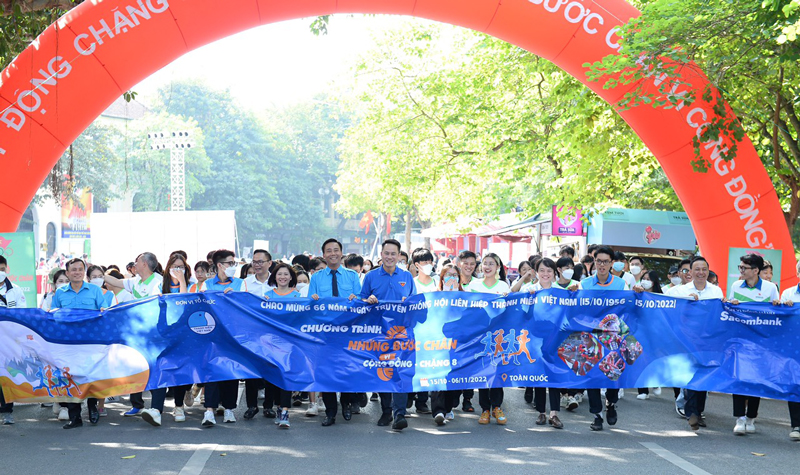 Attending the launching ceremony of Stage 8 were Mr. Bui Tu Ngoc - Director of Sacombank Dong Do Branch; Mr. Nguyen Ngoc Luong - Permanent Secretary of the Central Youth Union cum Chairman of the Central of the Vietnam Youth Union; Ms. Do Thi Kim Hoa - Member of the Central Committee of the Vietnam Youth Union cum Director of the National Volunteer Center and more than 500 members of the Union and the young in Hanoi.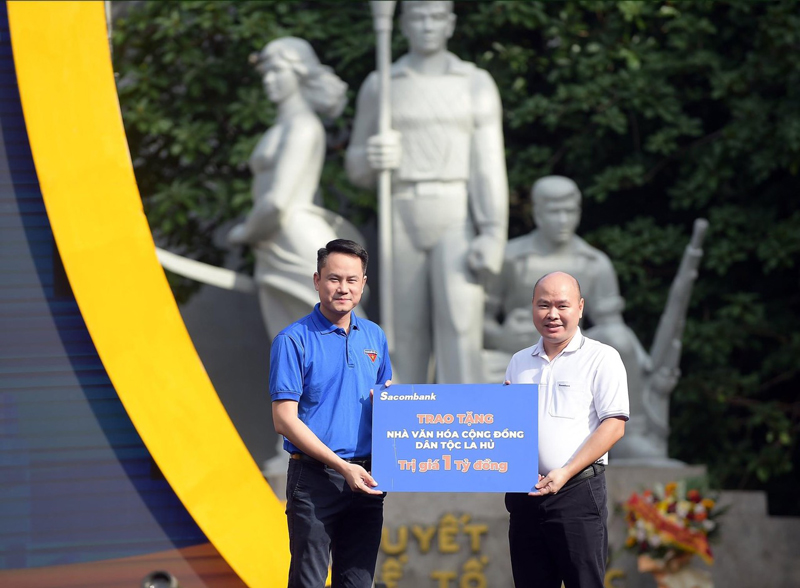 Mr. Bui Tu Ngoc - Director of Sacombank Dong Do Branch (on the right) presented the symbolic board of La Hu Community Cultural House worth VND1 billion to the representative of the Vietnam Youth Union.
The registration portal for stage 8 at website sacombankrunnersclub.com and Sacombank Runners app has been opened and recognized athletes' contributions since 00h00 on 15/10 and will be closed at 11:59 p.m. on 6/11/2022. The running campaign is neither limited to participants nor registered distance, athletes can walk or jog. The only requirement is that the average speed must be between 4 – 20 minutes/km.
Stage 8 - "Steps for the community" starts with the goal of reaching at least 1 million km of walking/jogging, equivalent to a budget of VND1 billion contributing to the construction of the community cultural house for the La Hu ethnic group in Pa Ve Su Commune, Muong Te District, Lai Chau Province. Also, at the ceremony, Sacombank presented 40 gifts/scholarships to the village elders and heads, policy households, and ethnic minority students who are living in difficult circumstances in Lai Chau province.
The running campaign "Steps for the community" has been implemented by Sacombank and the Vietnam Youth Union since 2020 on a national scale to promote the movement of exercise and sports to improve physical and mental health. At the same time, the campaign promotes the spirit of willing, volunteering for the community of Sacombankers in particular, as well as the youth of the whole country in general in taking care of and accompanying with the ethnic minority communities in Vietnam in order to preserve and promote traditional cultural values.
Until now, the running campaign has organized 07 races with nearly 70,000 athletes participating in "contributing steps" to raise funds to build community houses for ethnic minorities, including: Chut (Quang Binh province), Lo Lo (Cao Bang), La Ha (Son La), Pa Then (Tuyen Quang), Co Lao (Ha Giang), Mang and Lu groups (Lai Chau).