Instant refund of VND 100,000 when paying tuition fees via Sacombank
02/03/2022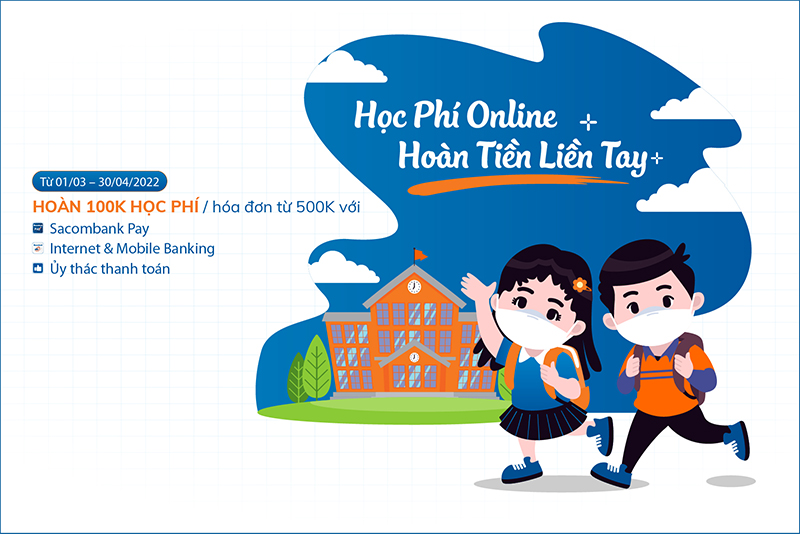 Accordingly, customers will be refunded VND100,000 when successfully paying tuition fees via Internet Banking/Mobile Banking/Entrusted payment or Sacombank Pay application with bills from VND 500,000. The offer applies to the first 3,000 invoices per month, of which 1,500 are for Sacombank Pay application and 1,500 are for the remaining payment methods. Each customer is entitled to a refund once a month during the program period, the refund amount will be transferred to the customer's account/card registered to use the service.
Sacombank has 8 channels to accept tuition payment with free transactions, including Sacombank Pay application, Internet Banking, Mobile Banking, Payment entrustment, at Sacombank OTC, POS machine at school, switchboard 1900 5555 88 Sacombank or online payment gateway. These payment methods apply to nearly 1,100 schools from preschool to high school and some other colleges and universities nationwide.
Since 2014, Sacombank has been one of the pioneer banks participating in the SSC project to bring payment utilities and modern banking technology closer to parents, students, students and schools… to respond to the Government's non-cash payment policy.
For detailed information, customers please kindly contact: