Opening online business account with e-KYC right on Sacombank website
19/04/2022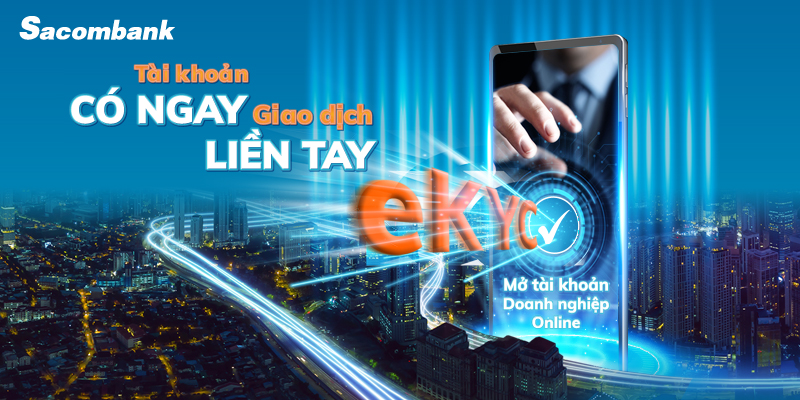 Applying modern OCR (Optical Character Recognition) technology, RPA (Robotics Process Automation - Robot Technology) and digital signature authentication, the eKYC supports customers to act quickly, no manual input required.
Businesses only need to go to Sacombank website, select Online registration to open an online account. After that, customer provides the Certificate of Business Registration, personal ID of the business representative and the Chief Accountant (if any); eKYC system extracts information from documents and records provided by customers and authenticates with 3rd parties; if the information is valid, the Bank will open an account, register for accompanying services (transaction alert, ebanking service) and customers can make transactions immediately without having to go to the counter to submit any further documents. From now until 30/06/2022, when opening an online account via eKYC, customers will be free of charge for transactions on eBanking and other fees such as account and card management, transaction alerts, etc.
Immediately after successfully opening a Sacombank online business account, businesses can make instant transactions on eBanking and experience many outstanding features such as: making transaction on multi-channels (Internet Banking, Mobile Banking), securing by multiple advanced methods (mSign - Authentication application on mobile phones, Digital signature), payroll service inside/outside the system up to 5,000 employees/spending order, online tax payment, bill payment...
The application of eKYC is part of Sacombank's strategy to improve customer experience to digitize the entire process from registration to payment transactions and enhance safety and security. In 2022, Sacombank will continue to bring many features and products integrated with modern technology to meet the needs of corporate customers.
For more information and other promotions, please contact Hotline 1900 5555 88 or 028 3526 6060; visit website www.sacombank.com.vn.