Outstanding privileges – Leading Success with Sacombank Mastercard Business cards
13/01/2022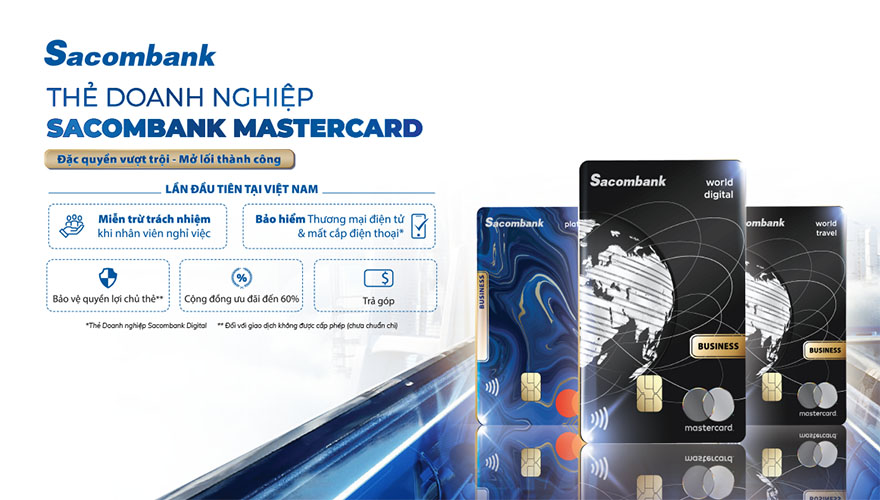 Accordingly, Sacombank Mastercard Platinum business cards' features include 0% instalment payment plan; golf privileges; luxury services (VIP lounges, Limousine transfer, priority assistance etc.) at more than 700 international airports; exclusives club of hospitality, cuisine, travel, education, entertainment etc. and protecting cardholders from unauthorized transactions.
In addition to the similar features as Platinum cards' ones, Sacombank Mastercard World business cards including Travel and Digital cards offer corporate customers more eminent and comprehensive benefits. In details, cardholders will have the access to the latest benefits such as responsibility waiver for transactions occurring after employees' resignment. Moreover, Sacombank Mastercard Digital cards offer e-commerce payment insurance in case of unarrived or unlike-described commodities etc. and lost cell phones insurance to optimize spending and protect benefits of corporate customers. Besides, customers are offered baggage insurance on business trips, free global Internet access at many countries and so on.
On this occasion, from Jan 20, 2022 to Jun 20, 2022 all Sacombank Mastercard new cardholders will get the first year's annual fee waiver and the first 400 cardholders will receive a luxury leather bag.
Particularly, the first new credit cardholders will get 1.5% cashback on the total payment transaction amount dated to Dec 31, 2022; 10 debit card cardholders with the highest spending will receive a Macbook Air 256 Gb and the next 15 cardholders will receive an Airpods 3.
Further information, customers may contact Hotline 1900 5555 88 or +8428 3526 6060; visit khuyenmai.sacombank.com.