Sacombank Bamboo Airways Platinum co-branded credit card set for launch
29/07/2022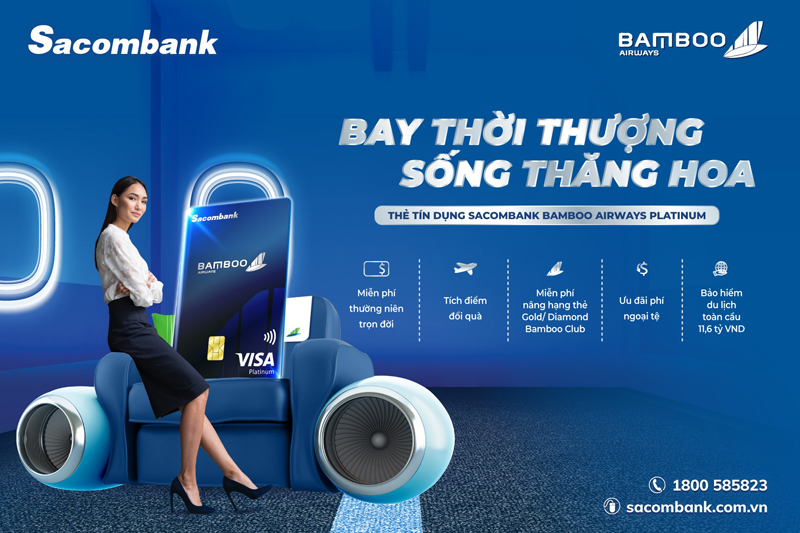 Catch the trend
In recent years, the trend of cashless payment among consumers has increased rapidly, especially after the Covid-19 epidemic. According to Visa's research conducted in the third quarter of 2021 on consumers' payment habits and attitudes, 65% of Vietnamese users said they had reduced cash use, switched to modern forms of payment such as cards, e-wallets, etc. Notably, the trend of contactless payment greatly affects this habit due to its convenience, speed and ease of use.
Meanwhile, according to another survey across Southeast Asia conducted by Lazada, 85% of consumers have spent more on online purchases since the Covid-19 pandemic broke out. Flight tickets, hotel reservations, food, essential products are the items that Vietnamese spend the most.
Realizing this trend, many businesses including banks and airlines have planned to strengthen the development of digital technology to increase convenience and experience for customers. In particular, Sacombank and Bamboo Airways always show our unremitting efforts in the process of digital transformation to catch up with the market trends, as well as meet the diverse needs of passengers.
Sharing this vision, the two businesses have just "shaken hands" with the world's leading electronic payment technology company Visa to launch the Sacombank Bamboo Airways Platinum co-branded credit card. The product will be officially released from 8/8/2022. Besides possessing all the features and utilities of a credit card, this product will also offer many elite privileges to optimize customers' benefits when using products and services from Sacombank and Bamboo Airways.
Hot deals
Besides the completely free card issue fee, cardholders of Sacombank Bamboo Airways Platinum are also able to enjoy the most attractive privileges in the current market.
Holders of Sacombank Bamboo Airways Platinum co-branded credit cards will get one Bamboo Club loyalty point from Bamboo Airways for every transaction worth VND25,000. The percentage is doubled when they spend on Bamboo Airways services. The reward points can be used to redeem Bamboo Airways rewards (products/services) such as air tickets, vouchers to business lounges, extra checked baggage, or products/services from Bamboo Club's partners such as Viettel, Grab Rewards, Vin ID, and others.
Cardholders will also have the opportunity to instantly get a premium Bamboo Club membership card to directly use extra services when flying with Bamboo Airways.
As soon as customers get a card, they get the opportunity to become a Gold or Diamond member of Bamboo Club. As a premium member of Bamboo Club, members will enjoy privileges such as priority check-in at the business counter/priority counter (can go with another passenger), free use of business class lounges, priority in seat selection, extra 10kg of free baggage on flights, and others. The total value of the incentive package is VND30 million.
Cardholders will be refunded the annual fee for the first year when they spend VND3 million within 30 days from the date of card activation. Those with qualifying spending levels will also have the opportunity to enjoy lifetime waiver of annual fees.
More than that, many other benefits await Sacombank Bamboo Airways Platinum cardholders such as: foreign currency conversion fee of only 1.8%/transaction value, global travel insurance worth up to VND11.6 billion.
Sacombank Bamboo Airways Platinum also offers all the regular benefits of an international credit card like spending first and paying later without collateral or interest for up to 55 days, withdrawing cash at millions of ATMs with the Visa logo worldwide with a cash withdrawal limit of 90% of credit limit and making payments for goods and services online or at millions of Visa merchants around the world.
Advance your strengths
The deployment of Sacombank - Bamboo Airways co-branded credit card is the latest step of the comprehensive cooperation relationship between Sacombank and Bamboo Airways, aims to bring more values and quality experiences to customers.
It also opens up new cooperation prospects between the two businesses, continues to enhance and promote the strengths of each party, thereby promptly meeting new needs of customers formed in the New Normal period such as the trend of "contactless" transactions or experiencing a synchronous, closed multi-service ecosystem with international quality services...
Saigon Thuong Tin Commercial Joint Stock Bank (Sacombank)
Established in 1991, Sacombank is the leading joint stock commercial bank in Vietnam. The bank owns nearly 570 transaction units in 52/63 provinces in Vietnam and Laos and Cambodia.
With the orientation to become a modern and versatile retail bank, Sacombank focuses on customer care, taking their demands as the central to deploy and develop business activities. Simultaneously, Sacombank also invests resources in digital transformation strategy to upgrade products and services according to the latest trends from the market, thereby increasing experience, convenience and maximizing value for customers.
Particularly, in the card field, Sacombank is a pioneer in launching high-tech products and services, appearing for the first time in Vietnam such as Sacombank Mastercard Only One (integrated credit cards and payment cards in 1 chip), international money transfer and receipt services via Sacombank Visa Debit card, credit card opening feature on Sacombank Pay app in just 5 minutes, ect.
Sacombank's efforts have been recognized by a series of important titles and awards such as the Second-class Labor Medal of the President of the Socialist Republic of Vietnam, Sao Vang Dat Viet 2021 - Top 10 typical brands awarded by Vietnam Young Entrepreneurs' Association, Top 50 excellent enterprises in Vietnam voted by Vietnam Report, etc.
Bamboo Airways
Established in 2017, Bamboo Airways constantly strives to strengthen regional links, promote domestic regional links; as well as enhance the image of the country and people of Vietnam in over the world.
Currently, Bamboo Airways is operating a large and diverse fleet of aircraft, including wide-body, narrow-body and regional jets. The flight network of nearly 60 domestic routes and 12 international routes is being exploited and expanded continuously, bringing Bamboo Airways into the top 3 airlines with the largest scale in Vietnam, with the highest punctuality rate in the whole industry, reaching approximately 97% in 2022.
Bamboo Airways' service quality is highly appreciated by customers, domestic and international media, titled as Airline with the best service in Vietnam, Leading regional Airline in Asia, The most favorite Airline of golf players. Recently, Bamboo Airways continued to be honored in the categories of Asia's Most Innovative Airline and Asia's Best Cabin Crew.
About Visa Inc.
Visa (NYSE: V) is the world's leading electronic payment technology company, currently processing payments among consumers, businesses, financial institutions, and government agencies in more than 200 countries and territories. Our mission is to connect the world through an innovative, secure and reliable payment network, thereby promoting the business of individuals and businesses as well as the overall development of the entire economy. We believe that every economy should involve people from all over the world, promote the development of each individual wherever they come from, and recognize that the ability to access finance is a solid foundation for the future of cash flows. For more information, please visit Visa.com website.