Sacombank continues to be honored as the best place to work in Asia
12/08/2022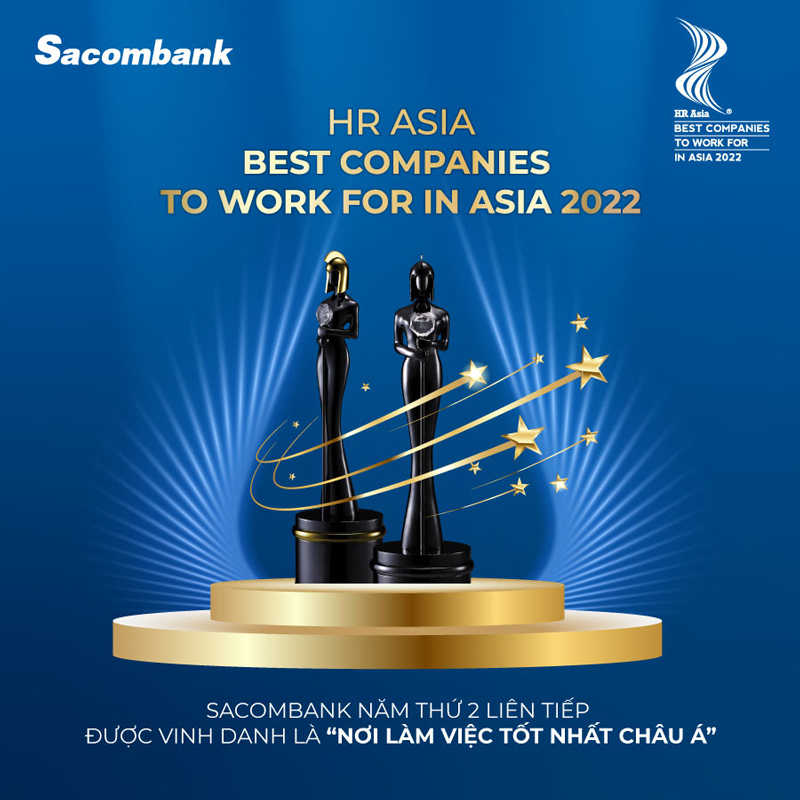 "Asia's Best Place to Work for" is an annual award of HR Asia - the leading prestigious magazine on human resources in Asia, to honor businesses with outstanding HR policies, attractive remuneration, allowance and quality working environment in Asia. HR Asia's in-depth survey provides businesses with a full view of their employees' needs, desires and engagement levels through an employee satisfaction survey based on three factors: Core, Self, and Group. The survey results of Sacombank in all three criteria are significantly higher than the average level of the market.
Sacombank is one of the strongest investors in technology, focusing on modernizing management, training and improving the quality of human resources. From 2020, Sacombank signed a cooperation agreement with NGS and HR Path to deploy the SAP SuccessFactors human resource management solution applies Cloud technology, digitizing almost all human resource management processes. By 2022, the SuccessFactors system has launched the next modules such as Learning management system; Career development path and Succession, enabling employees to actively develop plans to practice and supplement the necessary knowledge and skills to reach higher positions in their careers.
In addition, Sacombank also organizes many activities to improve, synchronize and standardize staff capacity through a series of Live Learning Day training programs. Training sessions on solutions to improve sales performance, digital payment trends, research on customer behavior and needs, etc., are designed to stimulate innovation in thinking and creativity in working, create a steppingstone for employees to break through and rise up at work. Only in the first 6 months of the year, more than 400 courses were implemented with 86,000 turns of employees participating in learning.
Not only focusing on professional development, Sacombank also deploys welfare policies and organizes activities to improve the quality of life, maintain the best attractive remuneration for employees. At the time of complicated developments of the COVID-19 epidemic, the Bank mobilized and supported employees to complete Covid-19 vaccination, support treatment costs, support food supply and distribute more than 20,000 F0 health care package at home. Sacombank also takes the lead in implementing internal cohesion activities, sports programs to encourage healthy lifestyle and relieve stress after working time. Typically, the "Sacombank Youth" movement not only attracts staffs to participate but also receives attention from customers and sports lovers thanks to the modern organization method (online running combined with fitness index analysis mobile application) and meaningful messages when combining sports with community programs and volunteer activities.
Being recognized as "Asia's Best Place to Work for in 2022" is an honor and at the same time, a testament to the right vision of the bank's leaders in their efforts to create a modern working environment, a dynamic, clear promotion roadmap, meeting the needs and development aspirations of each employee.