Sacombank enhances 3D Secure feature in online payment
26/09/2022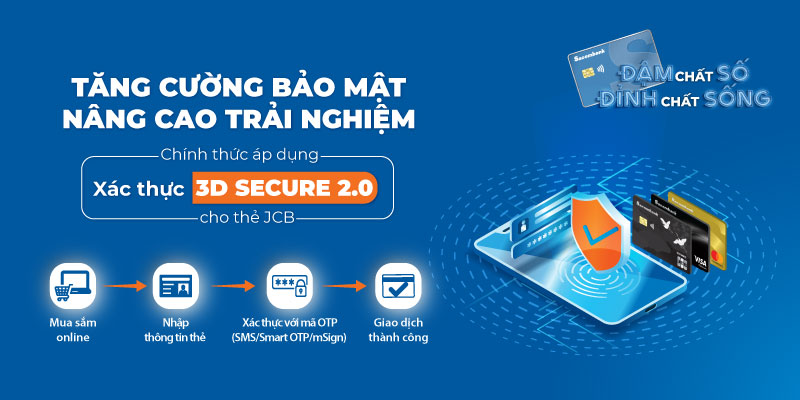 In 2020, Sacombank was one of the first banks to cooperate with two international card organizations Visa and Mastercard to upgrade the 3D-Secure to version 2.0 according to EMV standards for these card lines. Now, Sacombank continues to upgrade the 3D-Secure 1.0 version to 3D-Secure 2.0 with JCB card organization to perfect the card security system, enhance the safety of online card transactions and speed up the transaction process, so that customers can easily experience modern banking services with 4.0 technology.
The 3D-Secure system is an enhanced security authentication layer for cardholders when making online payment. Version 2.0 applies Risk-based Authentication (RBA) system to increase transaction processing rate, shorten processing time and enhance security, allowing customers to use new authentication methods such as biometrics (fingerprint, face ID) via Sacombank mSign application, Smart OTP on Sacombank Pay application instead of SMS OTP and other authentication devices.
In addition, this latest version also helps minimize forms of impersonation such as simulating a website to steal card information; at the same time, supporting customers to transact on various devices/platforms such as mobile phones, websites, online shopping applications.  Currently, 3D-Secure 2.0 is registered by default, deployed free of charge to all international cardholders of Sacombank Visa, Sacombank Mastercard and Sacombank JCB.  The Bank has always been a pioneer in applying card technology, especially security. As of 2021, Sacombank has received the latest version 3.2.1 PCI-DSS (Payment Card Industry Data Security Standard) certification for 8 consecutive years.  PCI DSS is a security standard established by the Security Standards Council including: Visa, Mastercard, American Express, Discover Financial Services, JCB International. Thanks to continuous efforts in applying advanced technology as well as information security, Sacombank is always at the top of the industry in terms of card payment sales.  Particularly in terms of international card online payment transactions, Sacombank is currently leading the market.