Sacombank is the best foreign exchange service provider in 2022
08/09/2022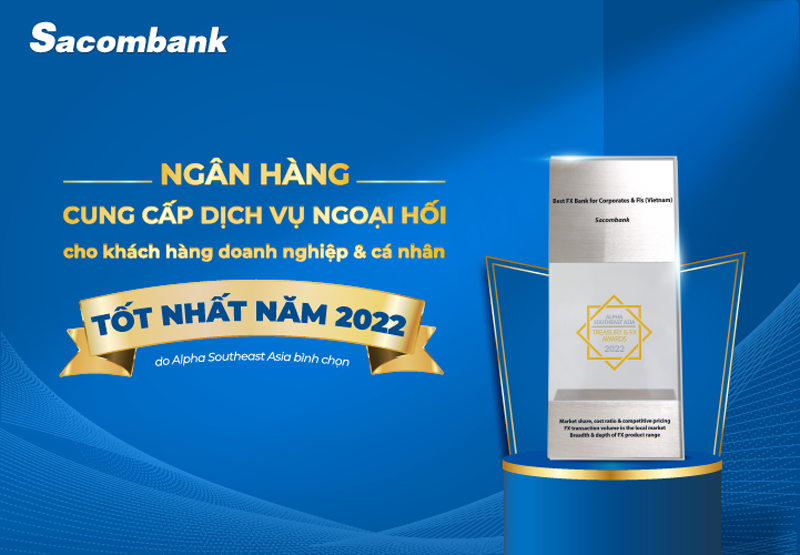 Sacombank provides a wide range of foreign exchange services for individual and corporate customers through a wide transaction network across 52/63 provinces and cities in Vietnam and 2 neighbor countries Laos and Cambodia as well as online transaction channels such as the Internet Banking, Mobile Banking on the basic of modern technology and high security. In recent years, Sacombank has continuously invested in technology development, especially online transaction solutions to improve and enhance the experience of individual and corporate customers in forex trading.
In addition, Sacombank also has the strength of abundant foreign currency liquidity, multi-currency payment timely to meet all trading needs in spot, forward, swap and options transactions at competitive rates with flexible time, quick procedures. In addition to traditional foreign exchange transactions, Sacombank also provides Commodities derivatives contracts to help corporate customers have more tools and solutions to prevent the risk of commodity price fluctuations with a series of preferential policies on transaction fees. Sacombank's analysts regularly follow market developments, timely update trends and appropriate business orientations for customers.
Thanks to the synchronous and effective strategy, Sacombank's foreign exchange business has always grown strongly over the years and is one of the leading banks in terms of transaction volume and profit in this field in the Vietnamese market.