Sacombank pioneered to launch 1 chip integrated international credit card in Vietnam
04/03/2022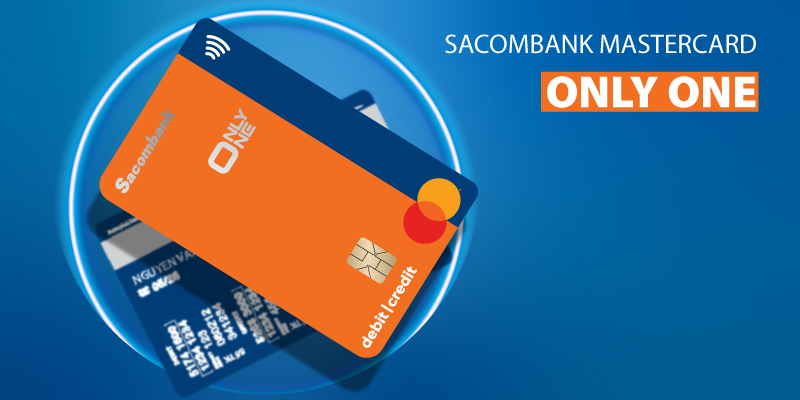 With this special line of integrated cards, cardholders only need to register a bank card to own a payment account to spend and a credit card to use the limit issued by the bank. It allows holders to choose the type of card account they want to use when checkout or cash withdrawal on POS or ATM devices. Sacombank Mastercard Only One is a product aimes to bring the best experience for customers, especially busy individuals, clerks, business owners, helps them to manage their finances in an optimal way, saving time and convenience in payment. With just one registration, cardholders will immediately have a versatile card that integrates both a monthly salary payment account and a backup financial source for their financial needs.
Specifically, Sacombank Mastercard Only One cardholders will be able to withdraw cash up to 90% of their credit limit at all domestic and international ATMs; buy in advance, pay later with up to 55 days interest free; credit limit of VND10 million or more; 0% interest installment payment at affiliated and non-affiliated partners of Sacombank and special offers around the world from Mastercard International.
Besides outstanding utilities such as scanning QR codes to pay and withdraw money without physical card; Online Shopping; Up to 50% off when dining, shopping, traveling... cardholders of Sacombank Mastercard Only One will enjoy online shopping insurance and protect personal information on a global scale completely free of charge. Specifically, when shopping online at any website, cardholders will be insured against damaged, incorrect, incomplete or not received goods after 30 days from the expected delivery date with maximum compensation value of US$200. At the same time, the cardholder's personal information is highly secured thanks to the 24/7 monitoring system on the global Internet environment that will send an email or a phone message to warn customer as soon as dangerous information is detected to be leak.
Mr. Safdar Khan - President in charge of Mastercard's Southeast Asia region said: "In the near future, Sacombank Mastercard Only One card will be the perfect companion of Vietnamese consumers in cashless payments. Cardholders can be assured that their transactions will be done securely, easily and conveniently. Sacombank is an important partner of Mastercard in the Vietnamese market, and the launch of this international 1-chip integrated card is one of the latest developments in our shared commitment to creating a payment ecosystem which comprehensive for anyone, anytime, anywhere. Hopefully, this effective cooperation will be continuously promoted to bring more innovative solutions that enhance the quality of of users' lives."
The pioneering launch of the 1-chip integrated international card Sacombank Mastercard Only One in Vietnam continues to affirm that Sacombank is always at the forefront in reaching the goal of becoming one of the most modern banks, in terms of launching high-tech products and services and prioritizing criteria to improve customer experience.
For detailed information, customers please kindly contact: Hotline 1900 555588 or 028 3526 6060; access website khuyenmai.sacombank.com and register online card at website card.sacombank.com.vn.