Sacombank received 3 major awards in business and digital transformation from Mastercard
02/07/2022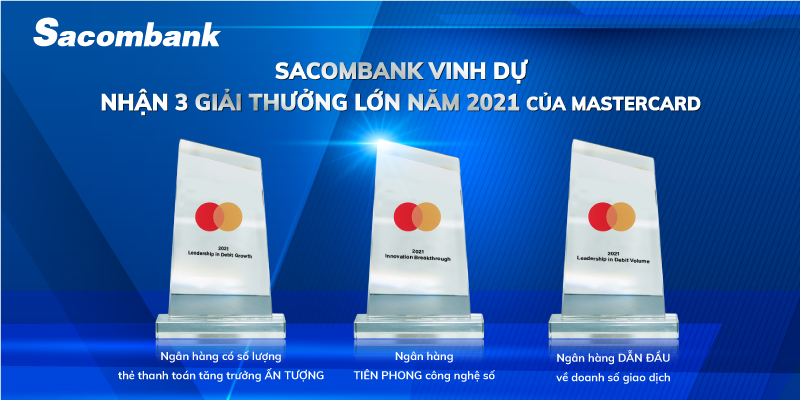 Accordingly, Sacombank was honored by Mastercard in three categories: Digital Technology Pioneer Bank - Innovation Breakthrough, Leading Bank in Transaction Sales - Leadership in Debit Volume and Bank with an impressive growth in the number of payment cards. - Leadership in Debit Growth.
Sacombank is highly appreciated for its positive innovations in business and its pioneering and creative spirit in bringing digital technology into the development of products and services to serve the increasing needs of customers.
Especially, with the category of Banks with digital technology pioneer - this is the Mastercard award for the first bank in Southeast Asia to deploy the QR on Card service and the first bank in Vietnam to deploy the business owner insurance service for business cards.
Specifically, Sacombank has cooperated with Mastercard to issue QR on Card for individuals who are small and medium business households. With the technology of printing QR codes according to EMV standards on the back of Mastercard international payment cards, Sacombank has successfully converted a payment tool into a card acceptance point. These QR codes contain full information of the business owner, customers can use Sacombank Pay application to scan QR code for payment easily.
Besides, Sacombank is also the first bank in Vietnam to launch a contactless payment solution by mobile phone - Tap to phone. This technology allows businesses to quickly turn Android mobile phones into payment acceptance devices to replace traditional POS machines, reducing investment costs and especially suitable for super small size businesses such as restaurants, grocery stores, traditional market traders, delivery shippers...
Sacombank is also a pioneer in allowing the issuance of non-physical cards on mobile platforms. With Tokenization technology, customers can easily register to open new credit cards and online payment cards on Sacombank Pay application. After successfully opening the card, customers can use card information to make online transactions immediately with a non-physical card in Sacombank Pay application.
Most recently, Sacombank has just launched the first set of corporate card - Sacombank Mastercard on the market, including 2 lines of payment cards and credit cards with 2 classes as World and Platinum. These are high-end card products with many practical utilities and superior benefits, giving businesses a class experience: global data roaming helps access the internet in many countries around the world; world-class services (lounges, limousine transfers, priority assistance…) at more than 700 global airports; offers up to 60% discount on tourism, culinary, education and entertainment activities to protect cardholders' interests when occurred unlicensed transactions…
In particular, the Sacombank Mastercard World will be exempt from corporate liability for transactions arising when employees quit job up to VND33.75 billion/year. Particularly for Sacombank Mastercard World Digital, there is a feature of e-commerce payment insurance when shopping online in case the goods are not received or the description is not correct; Mobile phone loss insurance helps to optimize costs and protect the interests of businesses. In addition, for Sacombank Mastercard World Travel, customers can also experience baggage insurance when traveling on business trip.
All Sacombank Mastercard credit cardholders can spend first, pay later with interest-free period up to 55 days without collateral; up to 50% discount when dining, shopping, travel; 0% interest installment purchases anytime, anywhere;... Card usage becomes even more convenient with Sacombank Pay application, which helps to manage comprehensive cards 24/7 and actively make transfers interbank, top up phone, pay bills...
With the advantage of diverse card products and many incentive programs, promotions have motivated customers to choose Sacombank Mastercard lines in their spending activities. And 3 awards from international card organization Mastercard have reflected Sacombank's investment efforts in providing customers with diversified products and services with different added values.