Sacombank received 4 grand prizes from Napas
23/11/2022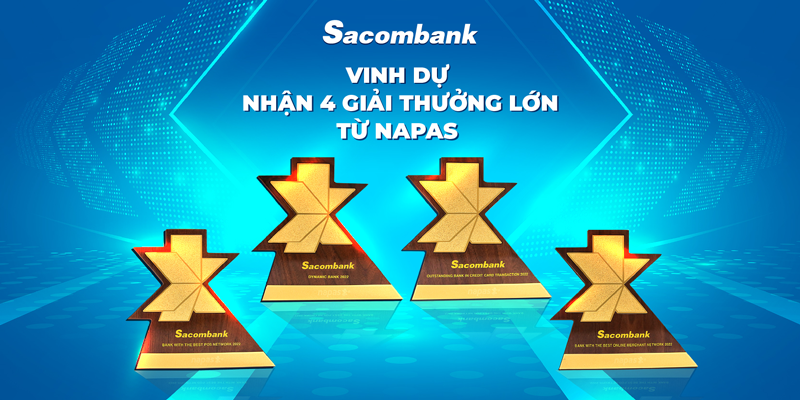 The awards Sacombank has received include Bank with The Best POS Network, Bank with The Best Online Merchant Network, Dynamic Bank and Outstanding Bank in Credit Card Transaction. This recognition has contributed to affirming the Bank's efforts in constantly improving customer experience and promoting domestic card payment transactions.
In 2022, Sacombank has completed the implementation of dual POS system according to VCCS technical standards. The number of POS recorded on Sacombank's NAPAS system is more than 60,000, accounting for more than 30% of the number of POS transactions generated through NAPAS; the total number of bank-payment transactions via POS grew by nearly 42% compared to 2021, reaching more than VND 36.2 trillion.
For online transactions, in 2022, Sacombank has led the industry in the value of online payment transactions through the NAPAS system. Transaction value in the year exceeded VND 2.1 trillion, accounting for nearly 63% of the transaction value of E-commerce services via NAPAS.
Besides that, Sacombank has actively coordinated to implement various outstanding projects with NAPAS, adding value to customers, including: Linking payment with Thai QR code; Deploying sponsored banking/payment banking services for payment intermediaries; Accepting VCCS cards via BCCard network in Korea; Pilot project to withdraw money by QR code; And recently, successfully issued Sacombank Napas Combo Card integrating debit card and credit card on one chip.
In addition to Napas Combo Card, Sacombank and NAPAS also issued Napas Easy Card credit cards. In 2022 alone, the number of transactions arising through NAPAS portal is up to 340,000 transactions, with a total value of more than VND 1,000 billion.
Sacombank promoted the development of domestic credit cards many years ago, targeting rural customers and workers in industrial zones. Domestic credit cards with low fees and interest rates suitable for the middle-income customer segment have contributed to speeding up cashless payment services and reducing black credit in line with the guidelines of the State Bank.