Sacombank recruited 300 employees nationwide
11/06/2022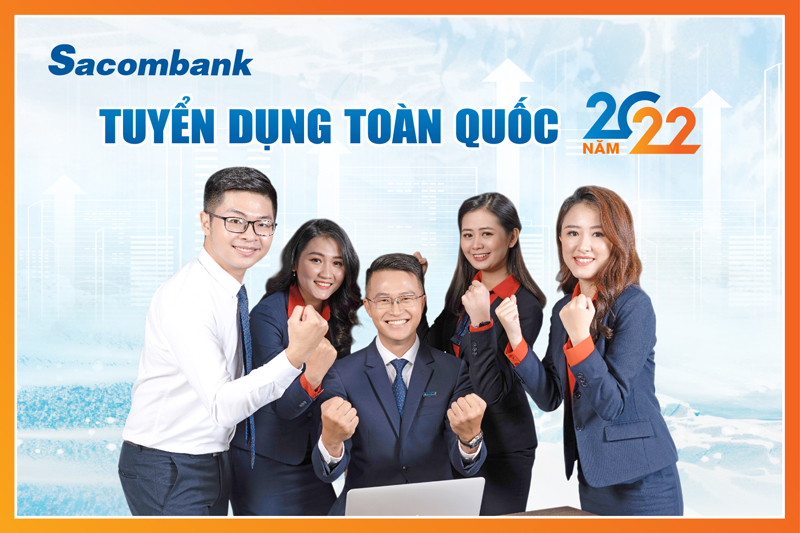 With the goal of becoming a modern universal retail bank, Sacombank is promoting the improvement of its product and service system towards personalization, tailored to the specific needs of each customer group, and at the same time constantly & comprehensively digital transforming to improve operational efficiency and user experience. In 2021, Sacombank has grown its customer base to 10 million and achieved many positive results in business. This is a potential environment for candidates to have the opportunity to develop their expertise, increase income and being promoting according to their cabability.
In addition, Sacombank has an effective human resource management policy with a specific promotion roadmap for each position. On that basis, each staff member will actively develop a plan to practice and supplement the necessary knowledge and skills to reach higher positions in their career path; At the same time, staffs are also regularly trained and fostered to improve their knowledge and skills according to a separate program framework. With a wide network and a policy of human resource localization, Sacombank also creates conditions for employees to choose a working location that suits their individual aspirations.
"The quality of human resources is the top concern of businesses. Reality has proven that businesses with effective HR strategies have achieved breakthrough achievements. In the future, this will be even more important when knowledge, creativity and emotion become the prerequisites for competition and development" – Mr. Le Duc Thinh – Deputy CEO and Head of Human Resource Management Division share views on human resource management at Sacombank. Last year, the Bank was honored to receive the award "Best working environment in Asia in 2021" voted by HR Asia organization with a transparent and professional human resource policy together with the efficiency of training mechanism, incentive, welfare and salary mechanism, an appropriate investment on technology in human resource management. At the same time, it is a corporate culture with humanistic characteristics, spreading positive energy, and cohesion maintained and constantly promoted by Sacombank over the years.
To apply, candidates can contact directly at Sacombank's transaction points nationwide or online at https://sacombankcareer.com