Sacombank rewards money to shop owners who accept payment via VietQR
22/08/2022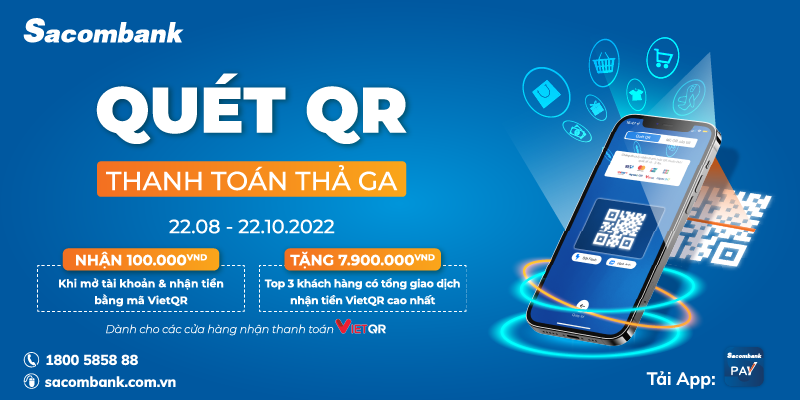 To create a VietQR code to receive money from the remitter, vendors only need to download the Sacombank Pay app to their mobile phones, then open a payment account (with customized number) right on the app to immediately get VietQR code. Accordingly, the first 4,000 stores and business households to open payment account on Sacombank Pay and receive payment via VietQR code (total amount from VND 200,000 or more) will be given VND 100,000; 3 stores and business households with the highest total value of transactions via VietQR code during the program period (minimum VND 30,000,000) will be awarded VND 7,900,000.
The payment via VietQR code service is also extremely convenient for shoppers and service users because they are not required to remember and enter account numbers when transacting but still can easily transfer money/make payment with just a few simple steps: go to Sacombank Pay, select the QR Code icon, scan the beneficiary's VietQR code, enter the amount and interpretation (if any), verify the transaction to complete.
Besides, owning a current account on Sacombank Pay application also provides users many benefits such as: free account management, free QR withdrawal at Sacombank ATMs, free money transfer and transaction notification fee via Sacombank Pay; online savings with higher interest rate up to 0.5% in comparison with at the counter; cards, accounts management; booking hotel air/car/train tickets, movie tickets, pay bills, top-up phones, etc.