Sacombank signed the contract of adopting IFRS 9 Financial Instrument
24/11/2022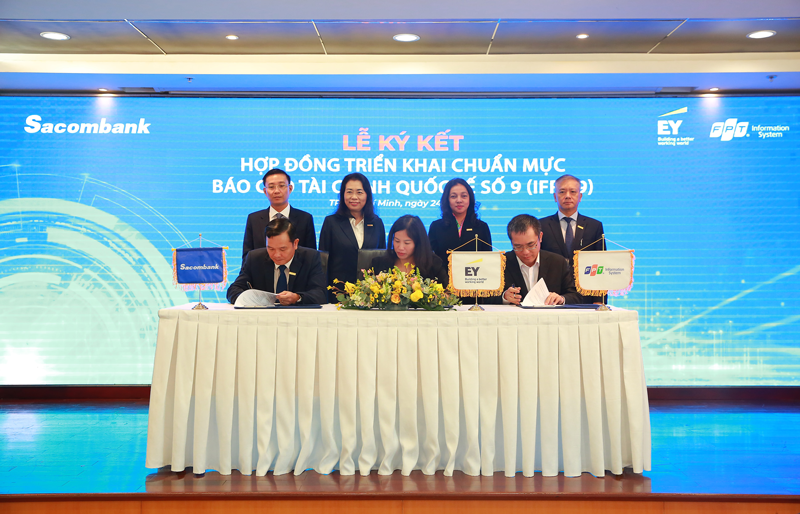 According to the roadmap for adopting the standard as the Decision No. 345/QĐ-BTC released by the Ministry of Finance on 16/03/2020, it becomes mandatory for corporates to adopt the IFRS for Financial Report from 2025. IFRS 9 is an international financial reporting standard created by the International Accounting Standards Board to replace the old IAS39 since 2014 and has become officially effective since 01/01/2018. The adoption of IFRS 9 is accompanied by positive changes to credit risk models, enhancing governance and control of accounting and closer co-ordination between the risk and finance functions. Once completing this project, Sacombank will be one of the pioneering banks in Vietnam to comply with IFRS 9 standards.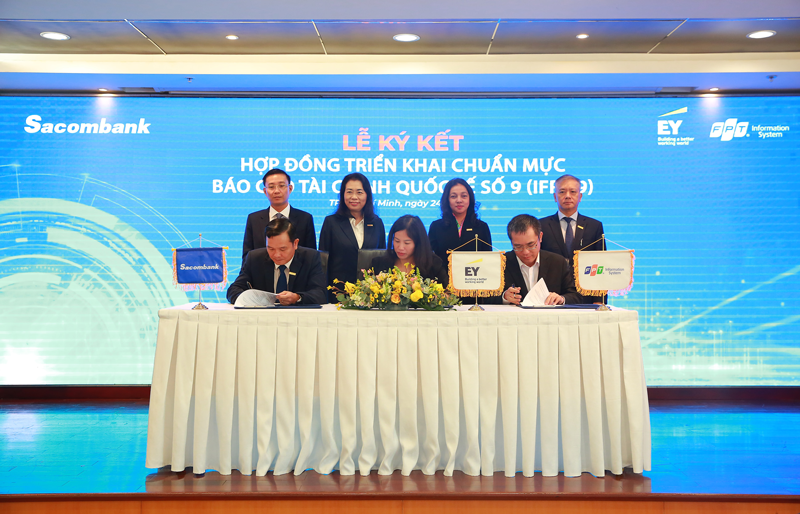 Signing representatives (from left to right) include Mr. Ha Van Trung - Deputy CEO of Sacombank, Mrs. Nguyen Thuy Duong - Deputy CEO and Chief of Financial Services Business of ERNST & YOUNG Vietnam and Mr. Duong Dung Trieu - Chairman of the BOD of FPT IS under the witness of Mrs. Nguyen Duc Thach Diem - Permanent Vice Chairman of the BOD cum CEO, Mr. Phan Dinh Tue - Member of the BOD cum Deputy CEO, Ms. Pham Thi Thu Hang - Independent member of the BOD and Mr. Tran Minh Triet - Chief of the Supervisory Board.
Speaking at the signing ceremony, Mrs. Nguyen Thuy Duong, Deputy CEO of and Chief of Financial Services Business of ERNST & YOUNG Vietnam said: "We highly appreciate Sacombank's interest and priority in this project. With years of experience in consulting leading commercial banks in Vietnam, we would like to note that the comprehensive adoption of IFRS 9 project requires a huge amount of work, determination from the board of management and staff involved in the bank's project and co-ordination between all departments in the bank."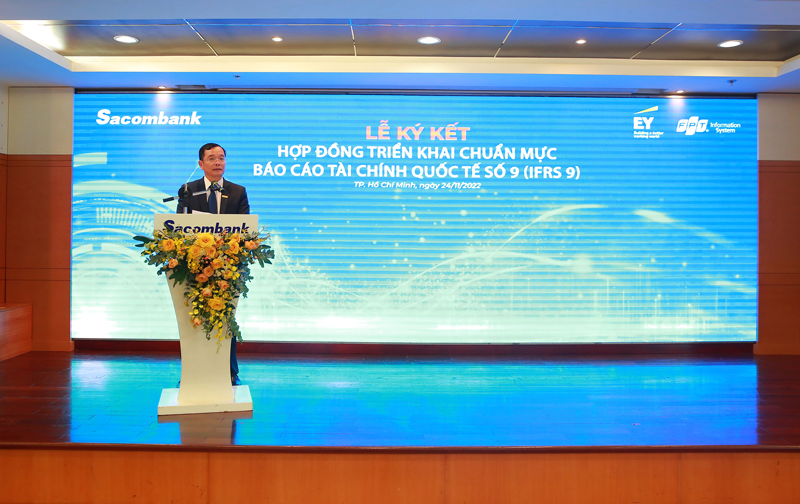 Mr. Ha Van Trung, Deputy CEO of Sacombank spoke at the ceremony.
Mr. Ha Van Trung, Sacombank's Deputy CEO cum Director of the Project said: "The adoption of IFRS will improve the transparency and quality of financial report, helping to protect independent investors' interests as IFRS requires all item of financial report to be recognized and presented according to the nature rather than the form or name of the transaction, thereby creating synchronization in the analysis and evaluation of the financial reports of Vietnamese enterprises with those in the region and worldwide. Financial report that applies IFRS are an important criterion to evaluate the efficiency in business operations and risk management of the bank in accordance with international practices. The project is in line with Sacombank's strategy to apply Basel, IRFS and achieve comprehensive transformation and is a solid foundation for Sacombank to operate safely, effectively and sustainably."