Sacombank won Sao Khue Award 2022
23/04/2022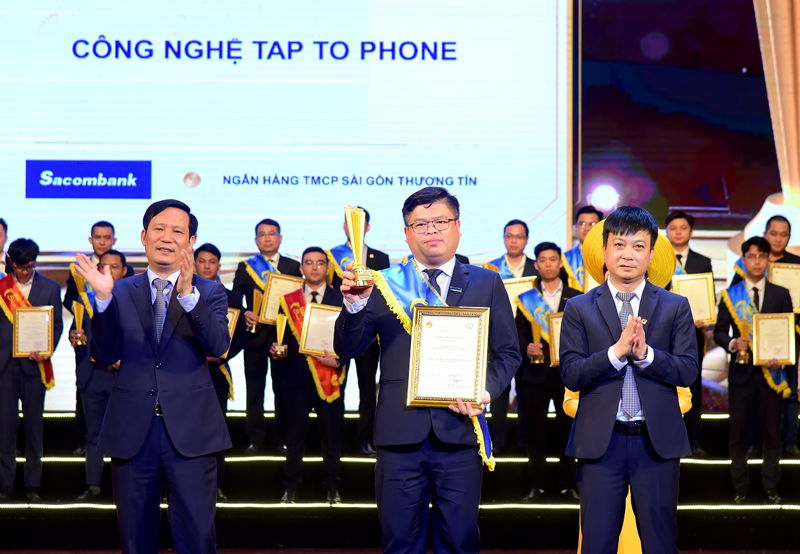 Sacombank's Tap to Phone technology allows card payment POS to use phones or tablets such as POS machines for contactless payments. Customers only need to touch EMV card with contactless technology branded Visa, Mastercard, JCB, Napas on the merchant's mobile device to complete the payment. This solution is especially useful for businesses, card payment merchants that need multiple mobile payment acceptance points, grocery stores, and merchants at wet markets. Thanks to these outstanding advantages, Tap to Phone helps to solve customers' concerns about contact restriction in the context of the pandemic, and at the same time helps to shorten operation time and save investment costs, bringing convenience but still ensuring safety and security. With Tap to Phone technology, combined with the Superfast Seller Approval Solution, Sacombank is the pioneer bank to launch a package solution for businesses, contributing to promoting digitization in businesses.
Not stopping at Tap to Phone technology, Sacombank always listens to the needs of customers to continuously deploy high-tech, versatile and multi-utility products and services. Typically, in March 2022, the Bank was the pioneer to launch a 1-chip integrated card Sacombank Mastercard Only One - a high-tech international card line that stores credit and payment card information on the same card chip. With this special line of integrated cards, cardholders only need to open a bank card to own a card associated with a payment account to spend cash in the account and a credit card to use the limit issued by the bank. In addition, in October 2021, Sacombank was the first bank in Vietnam to deploy a fast money transfer service to overseas Visa cards (Visa Direct Outbound) from Sacombank Visa Debit international payment card with competitive fees easily and conveniently.
With its strong digitization efforts, from the beginning of the year until now, Sacombank has continuously received awards from prestigious organizations such as the Top 10 Vietnam Gold Star Award 2021 awarded by the Central Vietnam Young Entrepreneurs Association; "Excellent Retail Bank", "Outstanding Digital Transformation Bank" and "Outstanding Bank for the Community" awarded by IDG International Data Group and Vietnam Banks Association (VNBA).