99 individual customers won SJC gold from the program "Super combo - Million offers"
18/07/2023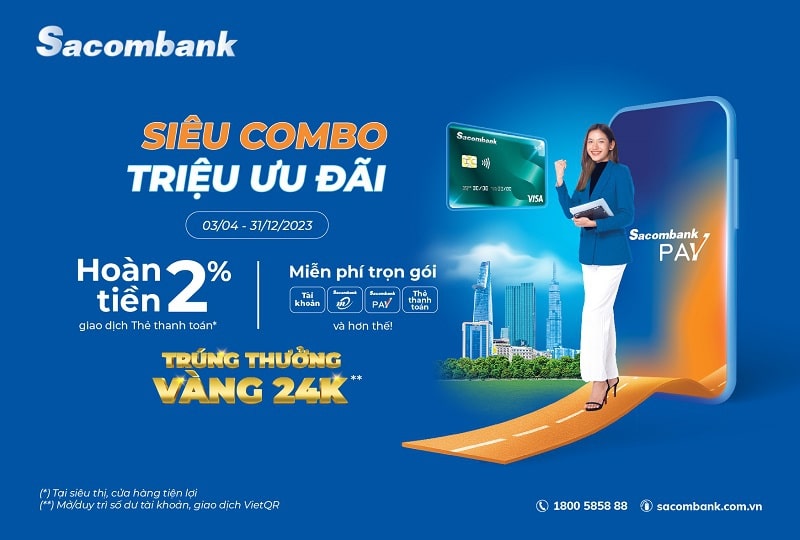 Specifically, this draw has found the first 99 lucky customers, each customer received 1 mace of SJC gold. The list of winning customers is posted on the website: https://www.khuyenmai.sacombank.com.
"Super Combo - Million Offers" is a promotion program organized by Sacombank from 03/4/2023 to 31/12/2023 with a total value of more than VND 29 billion. The program is designed for individual customers who register for a Combo package with various products and services such as account/payment card, Sacombank Pay, eBanking, etc.

In addition to the 2% cashback of the transaction value when spending via Sacombank payment cards from VND 1 million at supermarkets and convenience stores across the country, Sacombank also organizes 3 lucky draws with the total number of prizes up to 297 maces of SJC gold.

Customers only need to meet one of the following conditions to participate in the lucky draw: Open a new Combo package, the account balance reaches a minimum of VND3 million at the time of data closing of each drawing period or make payment via VietQR.

The program will continue from now until the end of 2023 and there are still 198 maces of SJC gold for lucky customers in the following 2 draws, which are expected to be held in October 2023 and January 2024.

For more information, please visit sacombank.com.vn or contact Hotline 1800 5858 88.