Digital transformation at Sacombank: Focusing on GenZ while harmonizing all generations of customers
14/08/2023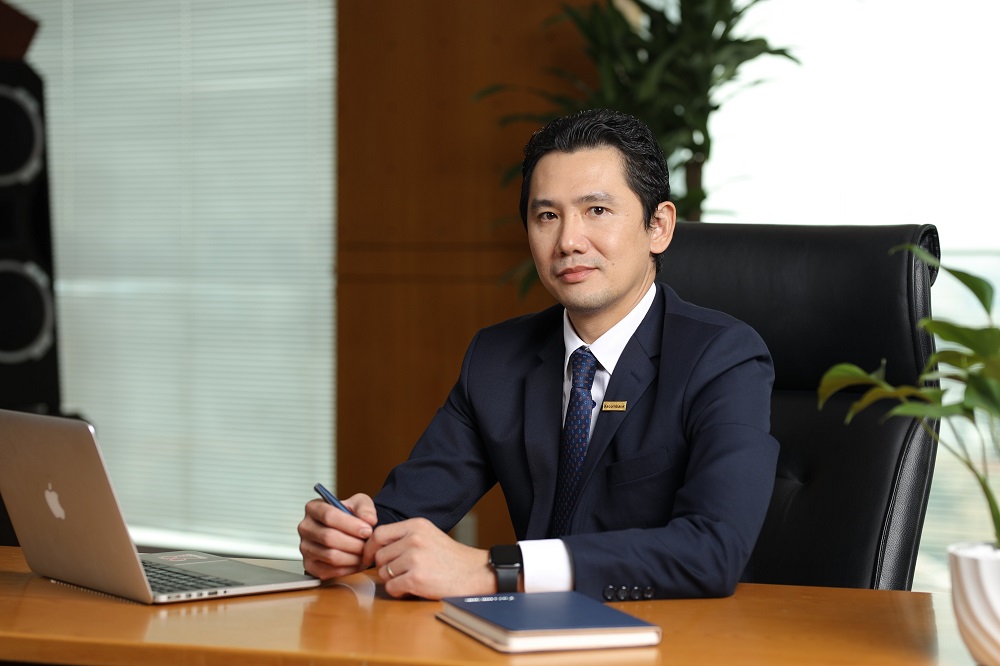 When did Sacombank begin to prioritize digital transformation?
In 2007, recognizing the significance of technology infrastructure, information security, and the potential of data, Sacombank decided to construct a data center capable of providing connection infrastructure, data retrieval capabilities, and leading security in Vietnam. This venture required an investment of $5 million. For a young bank at that time, investing such a substantial amount was a bold decision.
Following this strategic move, we progressively expanded our operations and modernized banking processes across various sectors, including the digitalization of financial products and services, business processes, and risk management.
GenZ customers have access to technology since birth. Is the digital transformation strategy a preparation for the GenZ customer group?
With the rapid technological development, the pervasive use of smart devices has become noticeable. This trend is especially pronounced among young individuals who frequently utilize smart devices from a young age. In the financial sphere, the popularity of cashless payments has risen significantly post-pandemic. People have grown accustomed to conducting transactions online through smartphones and computers. Interacting with devices has become commonplace, forming the basis for today's digital society.

At Sacombank, customer needs always take precedence. Irrespective of the generation, Sacombank is fully prepared to deliver exceptional financial experiences. Currently, GenZ—the generation raised in the digital era—is poised to replace GenY as the future's most influential consumers. Sacombank acknowledges the necessity of focusing on the behavior of this unique generation, upgrading its technology platform to cater to the diverse financial requirements of "digital customers."

This entails promoting changes in product and service design, further investing in the technology platform to align with the evolving digital economy, and tailoring the experience to each customer segment's preferences, especially the potential GenZ customers. To put it succinctly, despite being "veterans," we must comprehend the mindset, behavior, and voices of GenZ customers.

Considering Sacombank's particular interest in the GenZ customer group, what specific strategies guide the bank's digital transformation journey?
Sacombank's customer base is notably diverse, with GenZ being a focal point in recent years, although not the sole focus. Currently, the middle class constitutes Sacombank's primary customer group. While they may not offer extensive opinions about products, they do occasionally express fresh technological requirements. On the other hand, GenZ customers possess distinct experiences and expectations in financial transactions.

Centered around the customer and amid the relentless progression of the digital society, we strive to personalize our approach for all ages, ensuring comprehensive alignment with individual needs and delivering the best customer experience. This dedication drives our substantial investments in data, platforms, interfaces, experience-building, and customer journeys.

Presently, our efforts involve Sacombank's youthful staff and partners. This engagement facilitates a better understanding of GenZ customers' needs, enabling us to strengthen our technology platform, design experiences and interactions, and provide seamless experiences consistent with the mindset of 4.0 era consumers.

Is GenY a potential customer group and GenZ a future customer group for Sacombank? Is digital transformation and system setup delineated by generations?
Not necessarily. Categorizing by generation requires re-evaluating the system to gauge feature traffic. Some features garner interest but see infrequent use. Rather than dividing solely by generation, organizations prioritize problem-solving based on importance. The focus is whether a product or service is popular and has a sustainable trajectory in the future.

For instance, recent graduates may solely seek a payment account, but 1-2 years later, their needs may expand to explore new financial products for larger purchases like cars or houses. Customer demands evolve over time.

This compels banks to analyze data and comprehend customer milestones, as the Sacombank team is conducting research. We avoid excessive segmentation by GenZ or GenY, as we've studied entire lifecycle suitability for each customer stage. Our system analyzes customer-provided information such as gender, age, industry, etc., to predict desires and design products and services that holistically meet customers' financial needs."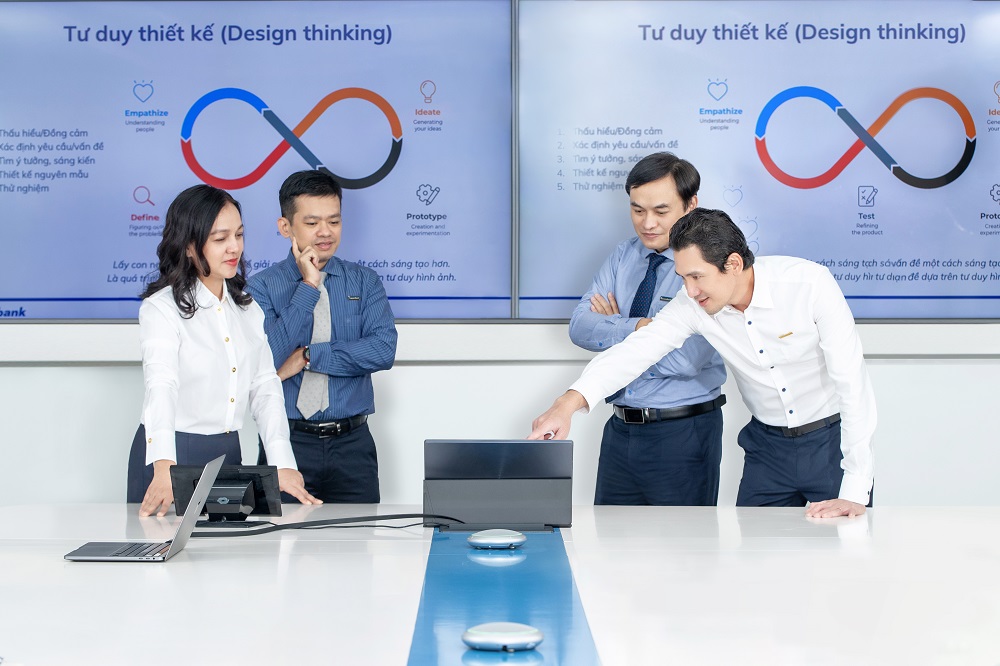 Mr. Tran Thai Binh, Director of the Digital Banking Division, presents the Digital Transformation project idea to Ms. Nguyen Duc Thach Diem, Permanent Vice Chairman of the Board of Directors and CEO of Sacombank - Head of the Project Department.
Currently, how many members in your department belong to GenZ?
Sacombank's Digital Transformation Service team is currently very diverse, including not only permanent staff but also experts and partners with high qualifications and experience in high-tech and project management. Within this team, the proportion of Gen Z members accounts for approximately 20-30%, which is a moderate number but sufficient for Sacombank to infuse digital thinking and gain a better understanding of the psychology and behavior of the customer generation in the digital age.

How has Sacombank's digital transformation process been evaluated by domestic and international organizations?

A few years ago, Sacombank was recognized by VnExpress as an excellent electronic bank. In 2022, Sacombank's contactless payment card technology (Tap to Phone) was voted as the Excellent Product by the Vietnam Software and Information Technology Services Association (VINASA) in the field of Digital Banking, under the Sao Khue Award 2022.

Recently, Sacombank was honored for the third consecutive time by the International Business Magazine, a prestigious international publication in the finance and banking sector based in Dubai (UAE), in the category of "Best Digital Transformation Bank Vietnam 2023."

This award is important as it acknowledges the organization's efforts and contributes to enhancing Sacombank's position in the market. However, for us, the award is not everything, as it represents valuable recognition over a short period. The digital society is constantly evolving, and Sacombank must always maintain a sense of advancement, developing modern digital transformation thinking to align with global operating trends.

As the head of the Digital Banking Division at Sacombank, which ideal bank in the world do you think you are looking to for learning and development?

In reality, we are conducting surveys and examining various models to objectively assess what truly works and to determine our own direction. Some of the banks in the world that Sacombank is studying include DBS Singapore, BBVA Bank Spain, IEG Bank (the first bank in the world to implement digital transformation), and KASIKORNBANK Thailand.

Thank you, Sir!

SACOMBANK IS PLANNING TO SELL SHARES IN VAMC?
With the strategic focus on "Accelerating digital transformation - Building a business ecosystem," Sacombank continues to implement comprehensive digitization projects. This includes establishing a digital business automation platform, upgrading data central infrastructure, expanding the network for card payments and cashless transactions, launching a new website, and introducing innovative, multi-functional products and services. Thanks to these efforts, in just the first 6 months of the year, Sacombank has gained nearly 371,000 customers, with over 8.5 million of them being regular customers.
Sacombank has also made a significant impact on the market with its impressive business results. In the first 7 months of this year, Sacombank's total assets reached nearly VND 625.5 trillion, reflecting a growth of 13.4% compared to the same period last year. Among these, the total of profitable assets stood at nearly VND 569.8 trillion. Sacombank's net income reached VND 15.403 billion, with a profit before tax of VND 5.425 billion. The bank is in the process of submitting a plan to the Government and the State Bank of Vietnam for handling the 32.5% stake in VAMC as per Decision 689. Sacombank's representative mentioned that once the plan is approved, they will promptly announce it and follow the required regulations. There are currently reports circulating in the market about Sacombank planning to sell the aforementioned shares in the fourth quarter of 2023; however, this seems to be a prediction made by securities companies rather than an official statement from Sacombank. Alongside proactive efforts in recovering and addressing bad debts and outstanding assets, it is anticipated that by the end of this year or early 2024, Sacombank will successfully complete the restructuring project ahead of schedule."