Exciting incentives for life insurance at Sacombank
13/10/2023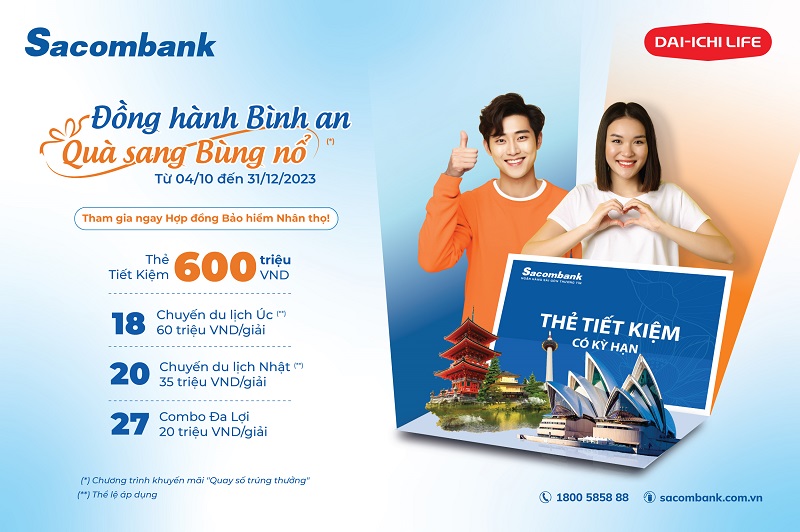 One such promotion is the "Safety Companion – Prosperity Ignition" lottery program, designed for customers who enter into new life insurance contracts from 04/10/2023, to 31/12/2023. The total prize pool is nearly VND 3 billion, featuring a special prize of a VND 600 million savings passbook, 18 first prizes of Australian travel vouchers worth VND 60 million each, 20 second prizes of Japanese travel vouchers worth VND 35 million each, and 27 third prizes consisting of Sacombank Combo Multi-benefit packages (comprising a payment account, payment card, e-Banking/Sacombank Pay, and transaction notifications via the Mobile Banking/Sacombank Pay application) with VND 20 million deposited in the payment account.
Customers are eligible to receive one lottery code for every VND 20 million paid in insurance premiums for the first year. Furthermore, customers can obtain bonus codes in the following scenarios: enrolling in the automatic collection service for insurance premiums (payment entrustment), having the policyholder or insured individual be female, and submitting the insurance request document on Vietnamese Women's Day (20/10/2023), and existing insurance customers who add supplementary insurance contracts during the promotional period. Customers have the opportunity to receive all three incentives in conjunction with the bonus codes, and the more codes they accumulate, the higher their chances of winning.
In addition, customers paying the second or third-year fees of at least VND 5 million will receive refunds ranging from VND 200,000 to VND 2.2 million, depending on the fee level and payment method (the refund for the payment entrustment method is higher than conventional methods). Customers who reinstate lapsed contracts will receive a refund equivalent to 15% of the basic fee, up to a maximum of VND 2 million. Notably, customers reinstating insurance contracts issued from 01/10/2021, with lapse dates ranging from 01/01/2023, to 31/08/2023, will be exempt from exclusion periods and will receive immediate coverage under the "Keep Bonding - Stay Secured" program.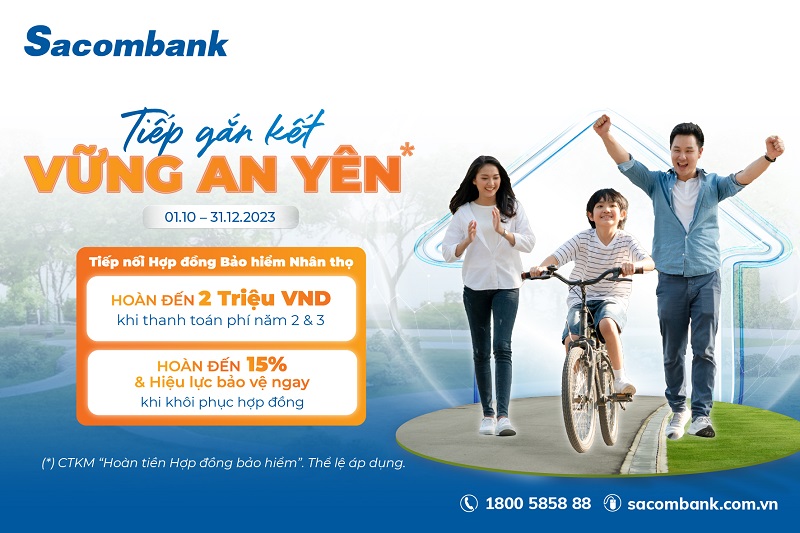 For new customers who purchase K-Care Cancer Insurance Contracts via the Sacombank Pay application, an instant 20% rebate on the actual first installment fee is provided through the "K-Care Promotion" program when the code SONGKHOE is applied. This program does not limit the number of contracts or promotional codes. K-Care is an online product offered by Sacombank and Dai-ichi Life Vietnam since October 2021, catering to customers aged 18 to 60. It offers outstanding benefits during and after cancer treatment, with coverage extending up to VND 500 million.