Sacombank continues to support the HCMC' fun "For the Poor"
30/10/2023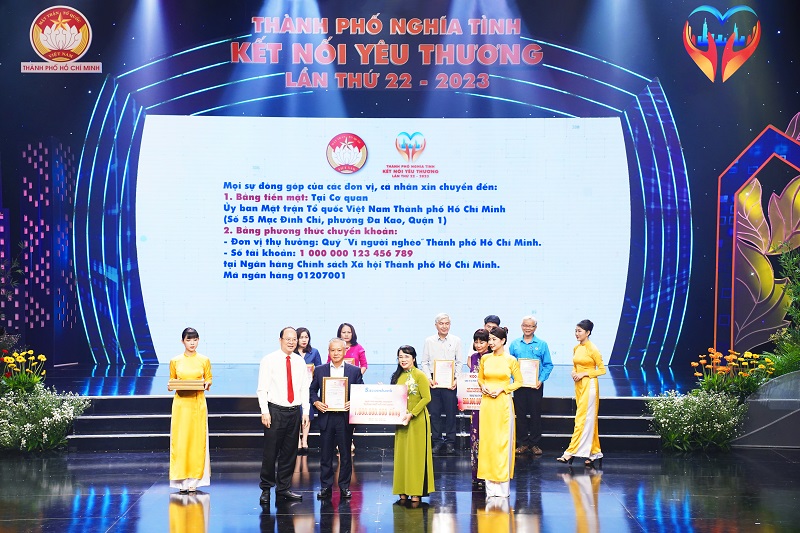 Mr. Phan Dinh Tue, a member of the BOD of Sacombank, presented a donation of VND 1 billion to "For the Poor" fund to Ms. Tran Kim Yen, the Chairperson of the Vietnam Fatherland Front Committee of HCMC.
In 2023, Sacombank commemorates a series of significant milestones in its ongoing commitment to community well-being and the propagation of compassion. These include marking 20 years of organizing "Spring Warmth" activities, which bring the joy of Tet celebrations to those facing adversity in various regions of Vietnam, Laos, and Cambodia. Sacombank has also relaunched the cross-country tournament "Running with Sacombank for public health" championing the promotion of sports training and overall well-being. Furthermore, the bank has generously donated 72,300 doses of the 5-in-1 vaccine to the Ministry of Health, in support of the nationwide Expanded Immunization program, offering free vaccination to children in challenging mountainous areas. Sacombank continues to contribute thousands of units of blood through its "Sacombank - Sharing from the heart" initiative. The bank also celebrates 20 years of empowering students nationwide with the "Nurturing Dreams" scholarship program. Additionally, it has successfully organized five stages of the online walking/running tournament "Steps for the Community" contributing funds to construct community cultural centers for ethnic minorities in the provinces of Ha Giang, Lai Chau, and Kon Tum.