Sacombank is the Vietnam Domestic Technology and Operations Bank of the Year 2023
26/10/2023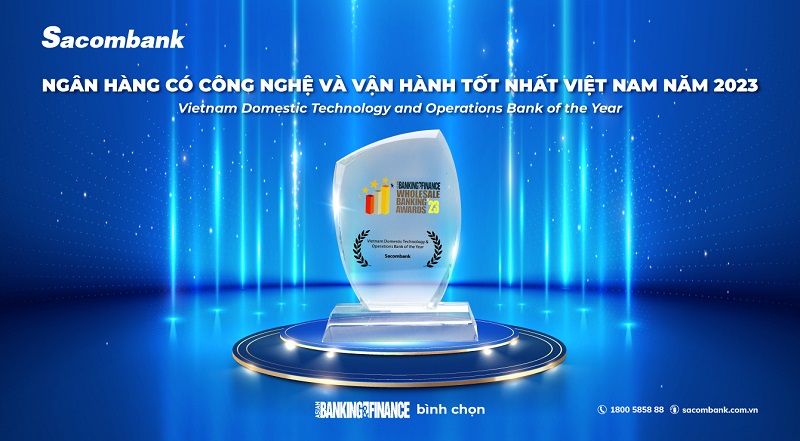 Sacombank's achievement in being named The Vietnam Domestic Technology and Operations Bank of the Year by Asian Banking & Finance Magazine is a testament to the bank's dedication to digital transformation in recent years. The accolade is a result of Sacombank excelling in four key evaluation criteria: the uniqueness, diversity, and creativity of the products and services; the efficiency, utility, and value of these offerings; the bank's influence within the industry; and its commitment to innovation and continual improvement.
In line with the mission to become the premier modern and multifunctional retail bank in Vietnam, Sacombank has been at the forefront of introducing cutting-edge technologies that adhere to international standards. These technologies have been instrumental in enhancing the bank's management and overall operations. Sacombank's commitment to customer satisfaction is reflected in its array of convenient products and services, including the Sacombank Pay financial management application, an automated collection service, robust development of online banking services (Internet Banking, Mobile Banking), and the implementation of blockchain technology to bolster security and safety measures.
The ABF Wholesale Banking Awards, organized annually by The Asian Banking & Finance Magazine since 2018, have emerged as a prestigious recognition in the field of finance and banking. The magazine is renowned for its comprehensive evaluation, analysis, and commentary on the dynamism and efficiency of the financial services industry. Its articles garner significant readership, especially among senior leaders in the Asian finance and banking sector. Awards conferred by the magazine hold considerable influence and have a positive impact on the business activities of the participating organizations.