Sacombank launches multi-benefit Visa UNIQ Platinum integrated card
08/06/2023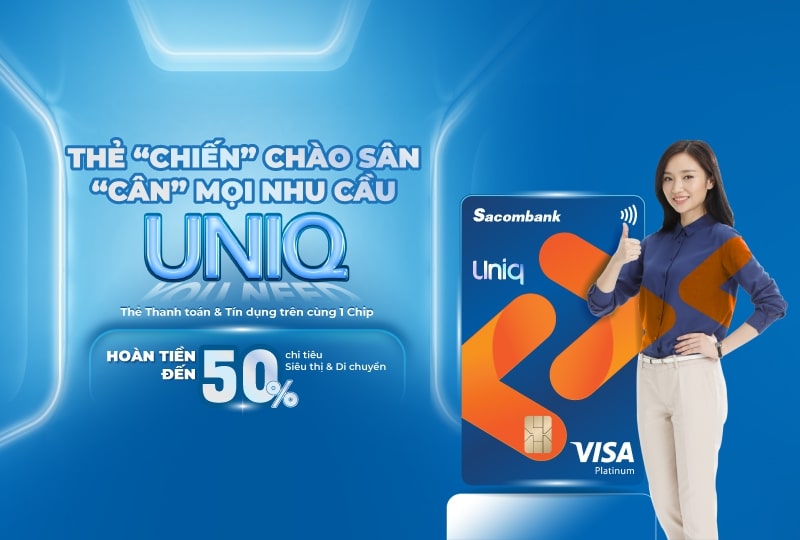 The Sacombank Visa UNIQ Platinum card is designed to help customers optimize their financial management. It saves time and offers convenience in transactions by providing not only a debit card for spending from personal financial sources but also a credit card that allows for spending first and paying later, based on the credit limit approved by Sacombank.

One notable feature of the card is that for supermarket and travel-related transactions, the cardholder will receive a refund of 50% on their first transaction (within 30 days from the card activation date) and a 20% refund on subsequent transactions. The maximum refund amount is VND300,000 per transaction period. 

Additionally, for other spending transactions, Sacombank provides a refund of 0.5%, with the maximum refund amount also being VND300,000 per transaction period.

Customers can use the Sacombank Visa UNIQ Platinum card as a debit card, benefiting from features such as free cash withdrawal at domestic ATMs, salary receipt via the card, and payments at Sacombank's POS terminals, Visa-logoed POS terminals worldwide, and online transactions.

Simultaneously, the Sacombank Visa UNIQ Platinum card offers all the features of a credit card, allowing customers to spend first and pay later, with an interest-free period of up to 55 days. Cardholders can also withdraw up to 90% of their credit limit at both domestic and international ATMs, make interest-free installment payments at affiliated and non-affiliated partners of Sacombank, and enjoy special offers from Visa International across the globe.

To obtain a Sacombank Visa UNIQ Platinum card, customers can register and open a card at any of the 552 Sacombank transaction points nationwide.

The launch of the integrated Sacombank Visa UNIQ Platinum card further strengthens the successful collaboration between Sacombank and Visa, diversifying the comprehensive payment ecosystem in the Vietnamese market. Sacombank's Visa Platinum/Platinum Cashback credit card and Visa Debit card have already received positive feedback from customers. This launch also demonstrates Sacombank's commitment to becoming a pioneer in introducing technological products and services, thereby enhancing the customer experience.

For more detailed information, customers can contact the hotline at 1800 5858 88 or visit the website sacombank.com.vn.