Sacombank offers preferential payment options for tuition fees and back-to-school shopping
16/08/2023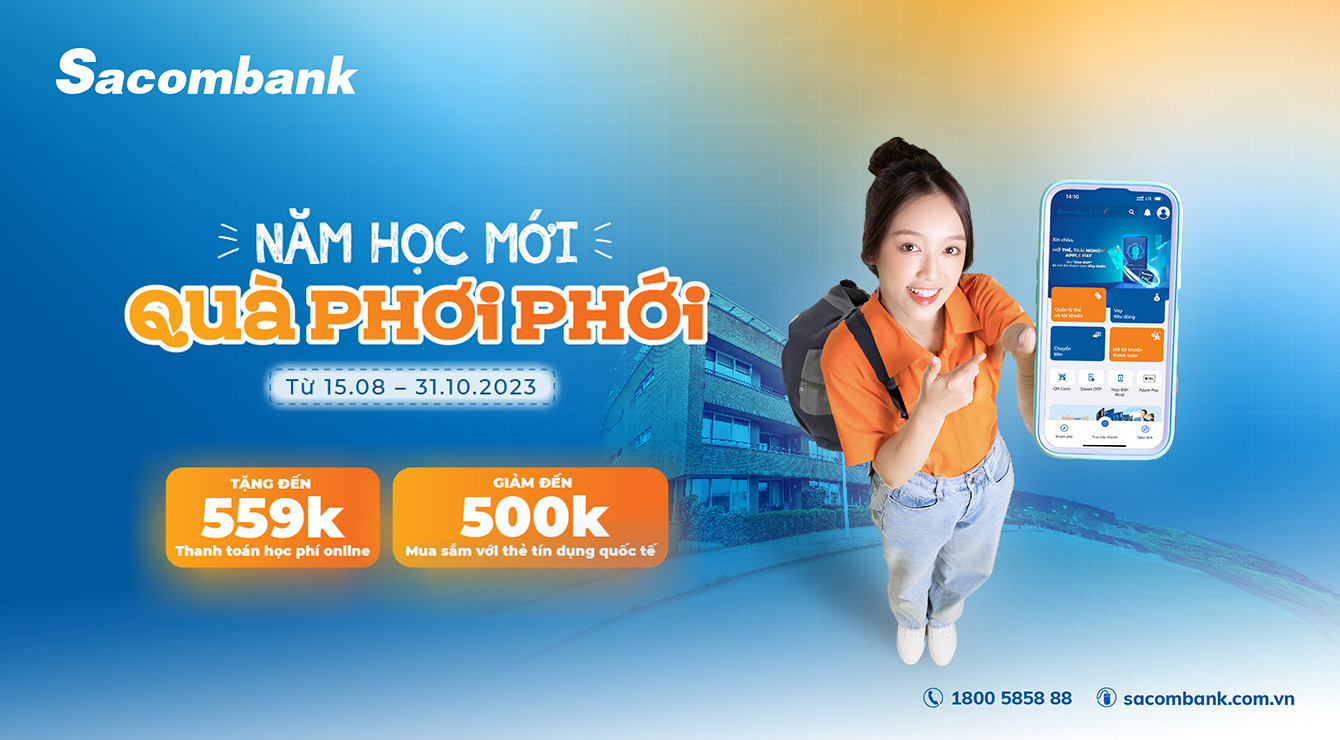 As part of this program, 100 customers who make tuition fee payments from VND 1 million through Internet Banking, Mobile Banking, Sacombank Pay, or Sacombank's authorized payment service and whose transaction order number is a multiple of 590 (e.g., 590, 1,180, 1,770, 2,360, etc.) will receive an immediate VND 500,000 refund through a random selection process.
Moreover, each month, the initial 3,000 customers who pay tuition fees through the aforementioned online channels, starting from VND 200,000, will receive VND 59,000.
Additionally, to celebrate the new school year, students seeking to purchase books and study materials can avail themselves of attractive discounts by using Sacombank's international credit cards for their transactions. This offer remains valid until 30/9/2023.
Specifically, for purchases of laptops, PCs/monitors at FPT Shop and Phong Vu, with invoices totaling VND 10 million, customers will enjoy an immediate discount of VND 500,000. At Phong Vu, bills of VND 5 million or more will yield a VND 200,000 discount. Furthermore, these electronic products are also eligible for a 0% interest rate installment discount.
When buying books and school supplies at Fahasa or Phuong Nam bookstore, or purchasing shoes at Biti's, customers spending at least VND 500,000 will receive a VND 50,000 refund. Notably, until 30/08/2023, shopping on e-commerce platforms such as Shopee, Tiki, and Lazada for a minimum of VND 1 million will grant customers a VND 100,000 discount.
The "New School Year – New Offers" program not only extends benefits to customers but also underscores Sacombank's pioneering role in aligning with the government's cashless payment policy. Simultaneously, the program contributes to bridging the gap between modern payment conveniences and parents, students, and educational institutions.
By the end of 2023, Sacombank will also extend various incentives for customers to open new credit cards, including 100% fee-free issuance, lifetime annual fee waivers based on transaction volume, and cashback of up to VND 500,000 for total transaction values starting from VND 1 million.
For more information, please contact Hotline 1800 5858 88 or visit website sacombank.com.vn. Register for online card opening at website https://www.sacombank.com.vn/ca-nhan/the/the-tin-dung.html.