Sacombank organizes awards ceremony for the promotional program "Green Summer – Classy Life"
11/10/2023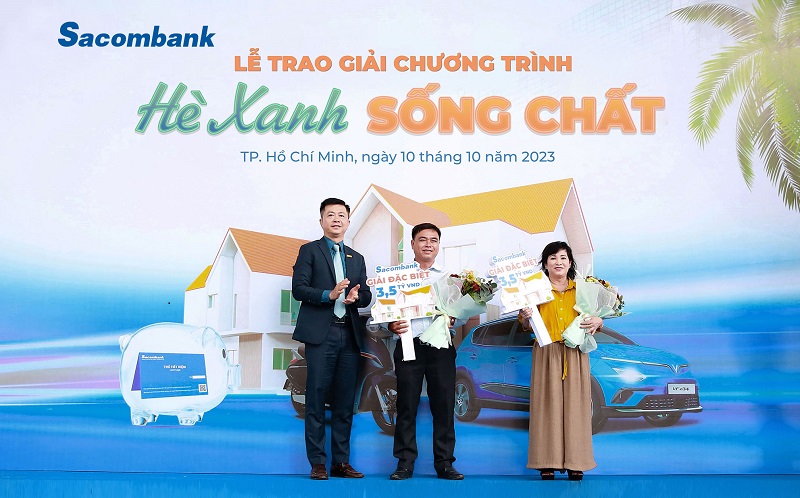 Mr. Nguyen Minh Tam, Deputy CEO of Sacombank, presenting two special awards to Mr. Le Minh Xuan and Mrs. Phung Thi Nhi.
The "Green Summer - Classy Life" program, which ran from 5/6/2023, to 31/8/2023, enticed individual customers with enticing incentives, such as depositing savings at the counter or online, conducting online transactions, receiving payments via VietQR, or making payments via their cards.
Following nearly three months of implementation, on 14/9/2023, Sacombank conducted a lucky draw to identify the recipients of 54 prizes, with a total combined worth of VND 10.5 billion. These included the two luxurious 2-bedroom apartments in HCMC, two VinFast VF e34 electric cars with batteries, 20 VinFast Klara S 2022 electric motorbikes with batteries, and 30 Super Flexible Savings passbooks, each valued at VND 20 million.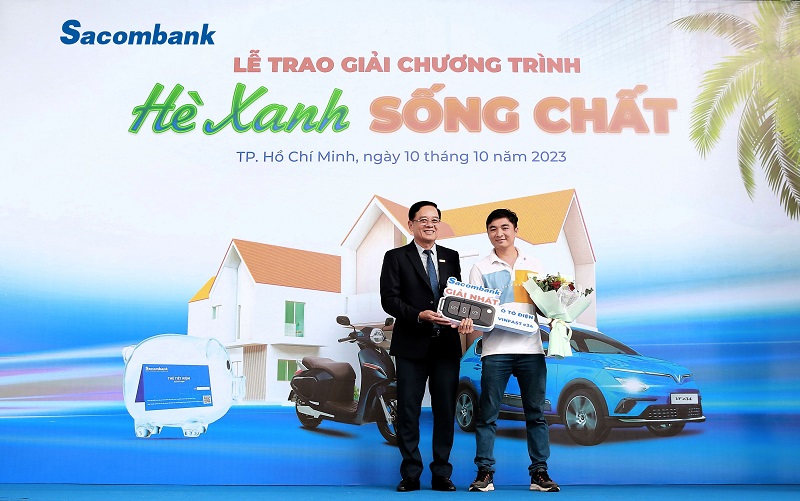 Mr. Pham Thanh Ky, Acting Director of Sacombank Southeast Region, awarding the first prize, a VinFast VF e34 electric car with a battery, to Mr. Cao Hong Phu.
On the morning of October 10, Sacombank celebrated the success of 11 fortunate customers in HCMC and the Southeast region who secured their victories in the "Green Summer - Classy Life" promotion. Among the prizes awarded were two luxurious apartments, one VinFast VF e34 electric car with battery, and eight VinFast Klara S 2022 electric motorbikes with batteries. The remaining winners will receive their prizes at Sacombank transaction centers across the nation. The complete list of winners is accessible HERE.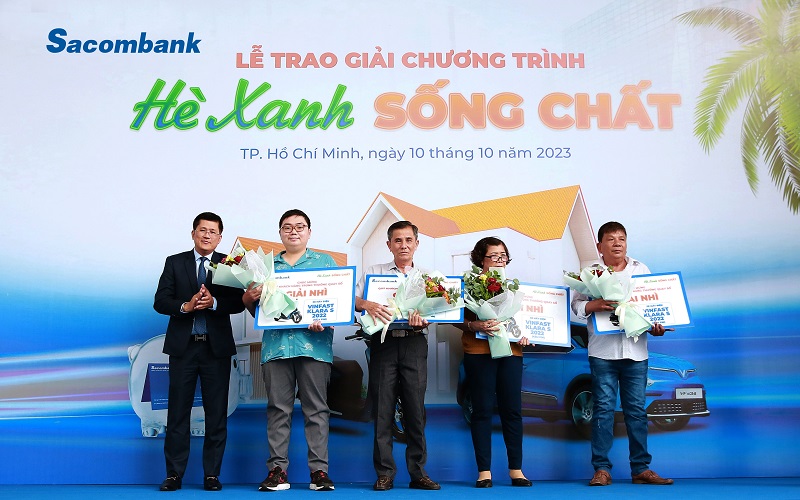 Mr. Le Nguyen Tien Thinh, Deputy Director of Sacombank Ho Chi Minh City Region, presenting the second prize to the lucky customers
For additional information and details, customers are encouraged to visit the Sacombank website at sacombank.com.vn, reach out to the hotline at 1800 5858 88, or contact via email at ask@sacombank.com.