Sacombank received the 2023 HCMC Green Business Award
14/09/2023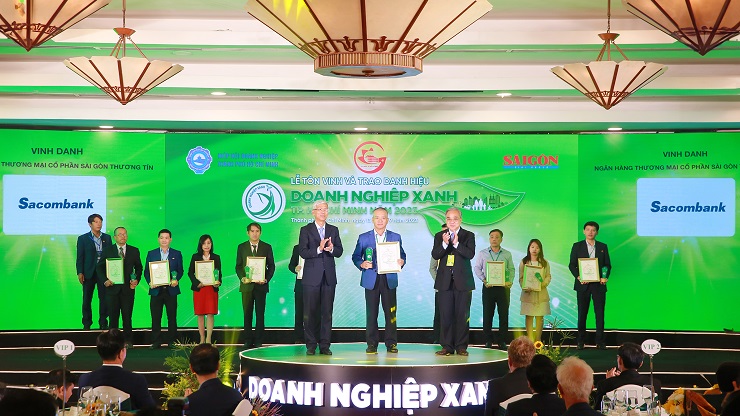 Mr. Phan Dinh Tue, a member of the Board of Directors of Sacombank, received the "2023 HCMC Green Business" award from the Organizing Committee representative.
The award aims to honor, reward, and encourage businesses that do not engage in activities harmful to the environment, community, or economy. It focuses on the protection of natural resources, continuous improvement in sustainability approaches, and the minimization of environmental impact. The honored businesses operate responsibly, adhere to rules and practices that benefit their employees and the community, and engage in promotional activities to improve competitiveness and international economic integration.
Sacombank is highly regarded for its sustainable development strategy, continuous investment in modern technology, and the promotion of a digital transformation in its business and management activities. This approach has led to significant energy and natural resource savings.

Notably, Sacombank has implemented AI, RPA, and the smart virtual assistant Sari in its customer care process. The bank has also developed the digital human resource management system SAP SuccessFactors, among other initiatives. By increasing digitalization and streamlining processes, the bank has reduced operational time, decreased paper usage, conserved resources, and contributed to environmental protection.

In the realm of business, Sacombank prioritizes diversity, career opportunities, fair remuneration policies, and equal progression opportunities for all employees. Furthermore, the bank actively supports various community programs, including providing assistance to those in difficult circumstances, awarding scholarships to support students' education, contributing to the construction of high-quality schools, bridges, roads, and public protection houses. Additionally, Sacombank undertakes projects to provide clean water and education to underserved areas.

Being honored as a 2023 HCMC Green Business is a significant motivation for Sacombank to continue its long-term development strategies. These strategies not only enhance the well-being of its staff and contribute to domestic economic growth but also emphasize environmental protection, ecosystem preservation, and the maintenance of good values for future generations.