Sacombank stands out as an exceptional and inspirational Asian enterprise in 2023
09/10/2023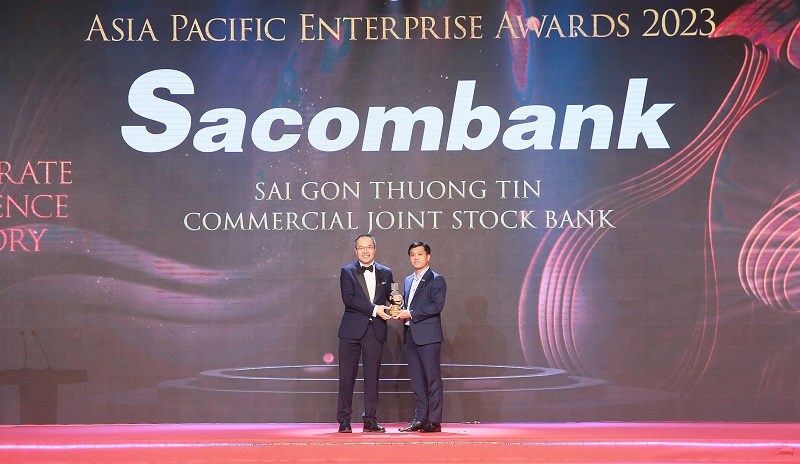 Mr. Le Duc Thinh (right) - Deputy CEO of Sacombank received the 2023 "Corporate Excellence Award "

The APEA is an annual award ceremony orchestrated by Enterprise Asia, a prominent non-governmental organization operating in 14 countries and markets across the Asian region. This distinguished award ceremony takes place each year to recognize businesses and brands that have demonstrated exceptional accomplishments in the realm of business while also making significant contributions to the betterment of their communities and society as a whole.
Demonstrating a steadfast commitment to its vision of becoming "The foremost retail bank in Vietnam", Sacombank has diligently undertaken comprehensive digital transformation efforts in recent years to enhanced workforce productivity and an enriched user experience through the development of a diverse ecosystem of products and services.
Sacombank has also demonstrated a strong dedication to the community by deploying numerous generous credit packages. These initiatives aim to facilitate easier access to credit capital for individuals and businesses, providing vital financial support with preferential interest rates to foster sustainable development, contribute to the expansion of the market and drive overall economic growth during challenging times.
Beyond business success, Sacombank actively engages in various community programs. These endeavors include uplifting those in difficult circumstances, awarding scholarships to thousands of students, and contributing to the construction of schools, bridges, roads, high-quality public facilities, and initiatives for clean water access and well drilling in underserved regions. All of these initiatives are aligned with the bank's long-term motto of "Accompanying Development," underscoring its dedication to fostering growth and development in the communities it serves.
Furthermore, Sacombank has been honored with the "Strong Brand" award in the category of Pioneering Innovation at the Top 10 - Top 50 Strong Brands in Vietnam 2022 - 2023 Awards Ceremony, organized by VnEconomy - Vietnam Economic Times. This marks the 11th consecutive year that Sacombank has received this prestigious accolade, demonstrating its unwavering commitment to innovation and the utilization of modern technology in all aspects of its operations. These efforts have resulted in groundbreaking efficiencies and substantial contributions to the sustainable growth of the bank.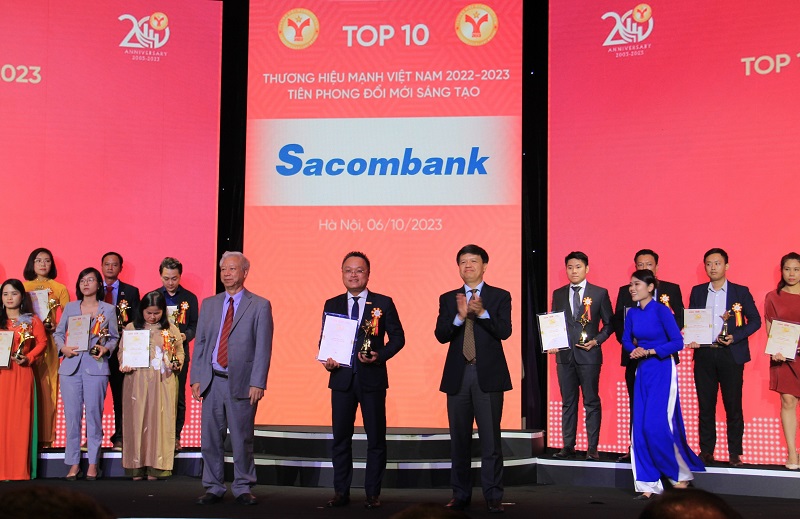 "Mr. Tran Anh Viet - Director of Sacombank Hanoi Area received the "Strong Brand" award
Sacombank has recognized the pivotal role of technology and proactively invested in infrastructure and the adoption of cutting-edge technology, establishing a robust foundation for digital transformation and innovative practices across technology, management, administration, operations, and business. These advancements are grounded in four core elements, including technology infrastructure, comprehensive digital solutions, digital products and services, and digital-centric mindset. Sacombank's endeavors have led to the successful implementation of several significant projects, including the Omnichannel digital banking platform, the introduction of high-tech products and services such as the Sacombank Mastercard Only One chip, automated trading machines, data quality governance framework, Microservices architectural system and APIs ecosystem, etc.