Sacombank continues to be honored as the HR Asia- the Best place to work for and received the Digital Transformation Awards
04/08/2023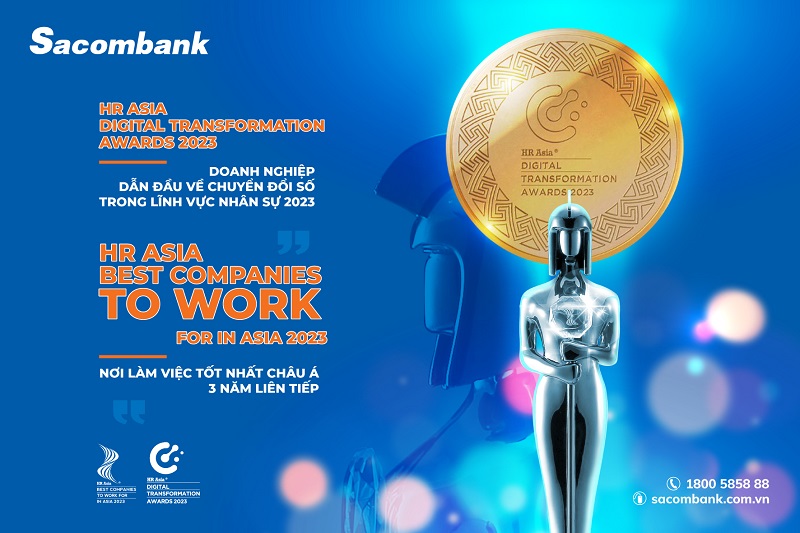 "Asia's Best Place to Work for" is an annual award of HR Asia - the leading prestigious magazine on human resources in Asia, to honor businesses with outstanding HR policies, attractive remuneration, allowance and quality working environment in Asia.
This year's theme, "Honoring Diversity, Equity, and Integration," prompted HR Asia to employ the Total Engagement Assessment Model (TEAM) to gauge the contentment of Sacombank employees. This evaluation focused on three key factors: Core, Self, and Group. Sacombank's survey outcomes in all three criteria significantly exceeded the market average.

The HR Asia – Digital Transformation Awards celebrate enterprises that have proactively transitioned employee engagement experiences from traditional to personalized platforms, enhancing organizational culture, productivity, and employee involvement within the workplace.

Since 2020, Sacombank has collaborated with partners to implement the SAP SuccessFactors human resource management solution. This cloud-based HR solution is among the global leaders, boasting over 120 million users across 74 countries. The system has effectively facilitated the digitization of human resource management functions, enabling Sacombank to efficiently analyze and harness maximum data from the system. This data-driven approach aids in promptly identifying personnel trends, thereby serving as a foundation for advisory measures to enhance mechanisms and policies. Consequently, it contributes to the advancement of the bank's strategic direction towards digital transformation.

In addition to prioritizing professional growth, Sacombank offers a plethora of flexible welfare policies and varying compensation schemes. The bank regularly hosts numerous activities aimed at improving employees' quality of life. It is also at the forefront of orchestrating internal engagement initiatives and sports programs that promote a healthy lifestyle and alleviate post-work stress. A noteworthy example is the "Sacombank Youth" movement, which garners participation not only from Sacombank employees but also captures the attention of customers and sports enthusiasts. This success can be attributed to its contemporary approach to organization, incorporating online running alongside a fitness index analysis mobile application. Moreover, this initiative seamlessly combines sports with community and volunteer projects, conveying meaningful messages.

The acknowledgment of Sacombank as the "Best Company to Work for in Asia 2023" and its receipt of the "HR Asia – Digital Transformation Awards" is more than just an honor; it is a testament to Sacombank's unwavering commitment to forging a dynamic, modern, and digitized work environment that aligns with the aspirations and developmental ambitions of its employees.